Malaysia Cup
Durakovic slams 5-minutes of madness from his Perak side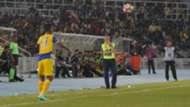 Pahang became the only team to win their home fixture in the first leg of the 2017 Malaysia Cup quarterfinal stage. A resounding 3-1 win over Perak was achieved at Darul Makmur Stadium and it was all done and dusted five minutes before the end of the first half. 
The Elephants capitalised on Perak's hesitancies in defence to score through Wan Zaharulnizam, Afif Amiruddin and Matthew Davies - all scored between the 36th to 41st minute of the first half. Even though Gilmar Filho managed to pull one back in the second half, the manner of the result left Mehmet Durakovic fuming with his players.
"We had a game plan and it went for us for 35 minutes and then five minutes of madness - where we basically gave them the game. We make unbelievable mistakes and it cost us. The lack of concentration and lack of thinking, basically three goals three mistakes," said Durakovic after the match on Saturday.
But the 52-year-old Australian remains confident that the tie is not dead and buried yet. With the return leg coming up in a week's time, Durakovic is counting on his players to prove that they have what it takes to overturn a two-goal deficit.
"We can play, we are Perak and we showed that in the second half. When you make mistakes like these, it really hurt everybody. But this is football and we move one, we'll wait for Pahang in the second leg. The overall performance was good bar the five minutes.  These players are good players, they are internationals, I'm sure they will bounce back," added Durakovic.
Perak were dealt a late blow prior to the first leg when midfielder Hafiz Kamal was ruled out due to injury. With the influential midfielder expected to be out for the rest of the season, Durakovic will have to find the right combination to power Perak through in the final phase of the 2017 season. 
Shahrul Saad was the choice on Saturday to partner Leandro dos Santos but Durakovic also have other options in Ahmad Khairil Anuar or Nasir Basharuddin to choose from. The partnership will be put to the test when Perak take on Melaka United in the coming midweek's Super League encounter.
The winner of the quarterfinal between Perak and Pahang are likely to go up against the mighty Johor Darul Ta'zim who took a comfortable 4-1 lead against Melaka back to Johor Bahru.