Bayern München
Coman airs future plans involving Bayern and PSG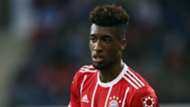 Kingsley Coman is planning a lengthy stay at Bayern Munich, but admits he could head back to Paris Saint-Germain later in his career.
The 21-year-old winger is a product of PSG's academy system, having come through the ranks at his home-town club.
He was, however, to make just a handful of senior appearances before linking up with Serie A giants Juventus.
From there he took in a loan spell with Bayern which was eventually made into a permanent move, with a new contract signed with the Bundsliga champions in December which is set to take him through to 2023.
Coman has every intention of honouring that deal, but has also admitted to Bild that it is impossible to tell what the future will hold, saying: "I'm certainly here for five or six years, but I cannot say that in 10 years - when I would be 31 - I'd still be here. But it is certain that I will stay for a long time.
"If I leave Bayern at some point, then I would have to go to an even bigger club. There is no such club. There is only one option: my favourite club was Paris as I played there for a long time."
Coman has been a regular for Bayern again this season, making 26 appearances across all competitions and netting four goals.
He is now an established first-team star for club and country, with the France international setting his sights on a place in Didier Deschamps' squad for this summer's World Cup.
The youngster has the perfect mentor in Munich to help him achieve that ambition and unlock his full potential, with fellow countryman Franck Ribery an experienced head who has achieved just about everything in the game.
Coman added on his 34-year-old colleague: "Franck always helped me, always giving me advice to make me better, he's a team player, he wants the team to succeed. 
"I do not see him as a competitor, he's a team-mate, and I can also play on the right wing, so Arjen Robben would be my competitor - we three like each other."