Ligue 1
Cisse quits football to focus on DJ career
Djibril Cisse has called time on his career nearly two years after he last played a game of top-flight professional football – and he now says he wishes to concentrate on working as a DJ full-time. 
Aguero is right to fear for his future
The former France striker's last top-flight act was to feature for Bastia as a substitute in their clash against Marseille, when he featured for nine minutes at the end of an injury-riddled 2014-15 campaign. He dreamed of returning to Auxerre, the club where he had made his debut, but injury prevented him regaining his top level.
Cisse's who career was characterised by serious injury and the 35-year-old striker's fierce determination to overcome these problems.
During his time at Liverpool, when he famously became Lord of the Manor of Frodsham, he suffered a serious leg break during a Premier League meeting with Blackburn. The player, who admitted that had it not been for swift physio attention, he might have had to have had the limb amputated, returned within less than six months later and scored from the penalty spot as the Reds beat AC Milan in the Champions League final of 2005.
A transfer to Marseille followed in the summer of 2006, yet on the day it was due to be announced, he again suffered a broken leg, this time playing for France against China. This prevented the striker from playing in the World Cup, although he did make Les Bleus' squad in 2002 and 2010.
Thereafter, he became something of a journeyman, performing well for Sunderland and Panathinaikos but never really settling as injuries took hold in the latter part of his career.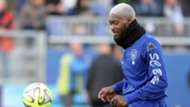 Indeed, in February 2016, Cisse, who had a brief spell in Reunion with Saint-Pierroise had a hip replacement operation but was still determined to turn out for Auxerre.
Dembele: Speculation no distraction
Last month he was training with the Yonne side's first team, who play in France's second tier, and held out serious hopes of joining their squad after spending two months with their reserves. It was not to be, though.
"I loved being a footballer," he told Yahoo Sport. "So far football has been my whole life.
"I would like to have continued my career, which was interrupted in spite of myself, but I have to admit today that football is finished."
Now Cisse is clear what he wishes to do in the future.
"I will devote myself wholeheartedly to my career as a DJ, producer and consultant, as well as developing my clothing brand," he said.
"Thank you for all your support. The adventure continues, another life begins.
"A lion never dies."
In total he played 545 professional matches, scoring 220 goals, including 32 in 110 Premier League appearances. He turned out for France 41 times.