World Cup
Eriksen needs trophies if he wants to be considered a true Denmark legend, says Laudrup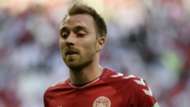 Michael Laudrup's son Andreas thinks that Denmark's star man Christian Eriksen needs to win some silverware for club or country to be considered one of the greats back in his home nation.
The Danish great won a host of honours in club football with Real Madrid, Barcelona, Juventus and Ajax which saw him awarded the title of Scandanavia's greatest ever player in 2015.
Eriksen, meanwhile, has established himself as a a major force at Tottenham but hasn't won any silverware since his £11 million move from Ajax to Spurs in 2013.
Andreas Laudrup, who was a rising star in Denmark before arthritis forced him to retire at just 24, says he hopes Eriksen will win the trophies he needs to be compared with the greats of previous eras.
"Hopefully, for him and Denmark," Laudrup told Goal. "What we do have is one of the best players in Europe in Christian. He is certainly one of the best number 10s. You have to compare players on what they have won and you can only do that when he stops his career.
"It is always difficult to compare players. That's something you can do after he stops playing football. Then you can first of all compare the level of the skills that he has but it is also important to see what the players won. The main thing in football is winning."
Laudrup has switched from playing to working as a football agent and watches more football than ever in his role. He has kept a keen eye on Denmark, beyond just Eriksen, and assessed their threats as they prepare to face Australia after beating Peru in their opening game.
"The coach [Åge Hareide] has done an amazing job to get them organised," he added. "I think they are unbeaten for 13 or 14 games now. It is a team that's very difficult to score against.
"We have a winger in Sisto who can make unexpected things happen. Then you have [Kasper] Dolberg and [Nicolai] Jørgensen who have done good things in Holland. So it is a very well organised team that also has the ability to score. So it will be tough for opponents against Denmark - and they will also have to watch out for Eriksen."
The Danes are outsiders to achieve any success at this year's showpiece in Russia but they have a host of talent in Europe's top five leagues.
Chelsea's Andreas Christensen is an emerging talent for the country going into his first World Cup and Laudrup believes that his calmness sets him apart from others of the same age. 
"Yes, we think he can be special, of course, because he plays at Chelsea," Laudrup continued. "He is an amazing talent. Of course, you still recognise that he's very young but he is very calm when he has the ball and when defending on the pitch. So I think everyone in Denmark sees him as a rising star.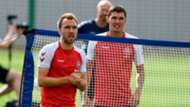 "He is still young so we have to give him time before we put too much pressure on him but he is a big, big talent."