Premier League
Can Guardiola overcome Wenger's Emirates hoo-doo?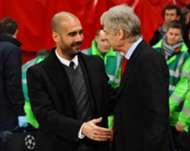 ---
COMMENT
---
Arsenal's repeated struggles against Europe's best sides have become a major complaint among fans who want to see Arsene Wenger step aside.
'Wenger is up there with Ferguson'
Pep Guardiola is an example of a coach who has regularly got the better of Wenger whenever they have faced each oher, just as Sir Alex Ferguson did in the final years of his reign at Manchester United, and as Jose Mourinho does, particularly during his time at Chelsea.
Guardiola's got a great overall record against Wenger, but it's a different story at the Emirates...

Posted by Sam Lee on Saturday, 1 April 2017
Guardiola and Wenger have faced each other in nine competitive games in their managerial careers, and the Catalan has come out on top in five of those meetings, with just two wins for Wenger.
Crucially, those Arsenal wins have counted for little. When Wenger masterminded a 2-1 win over Guardiola's Barcelona in the first leg of the Champions League last-16 in 2010-11, Barca bounced back to win the return 3-1. And when Arsenal beat Bayern 2-1 at the same stage in 2014-15, the German side recovered to win 5-1 at home.
In four Champions League last-16 ties, Guardiola has got through to the next round every time. Including Manchester City's 2-1 win over Arsenal in the Premier League in December, Guardiola's teams have scored 20 goals compared to Wenger's 11.
It is fair to say that Guardiola, like many of Europe's top coaches, has the upper hand when it comes to facing Wenger's Arsenal.
But there is an interesting quirk in the rivalry. Four of Guardiola's five wins have come at home, whether at Camp Nou, the Allianz Arena or the Etihad Stadium.
At the Emirates Stadium he has won just once in four attempts, with Bayern in 2014. Both of Wenger's wins against Guardiola's teams have come in London, and there has been one draw.
"I travelled there with Barcelona and with Bayern Munich," Guardiola said on Friday as he prepared for Sunday's game. "We won once or twice, but the other times we were there, sometimes we lost and sometimes we drew.
"It's difficult because it's the Emirates and they are a tough team, trying to be there in the top four. I know how difficult it will be, but of course we have a good chance to make a step forward."
Arsenal will keep attacking, vows Wenger
Arsenal are in the doldrums at present, losing six of their last nine games, with two of their three wins coming against non-league opposition in the FA Cup.
And while City are slowly but surely getting to grips with Guardiola's demands, they have been guilty of missing plenty of chances, and being caught out at the back.
Could Wenger's good run against Guardiola continue on Sunday?