Sergio Ramos
'Everything is a plot against him in his world' - Pique and Ramos' war of words in quotes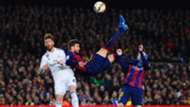 The war of words between Real Madrid's Sergio Ramos and Barcelona's Gerard Pique hotted up this week, just in time for another El Clasico clash.
The pair began bickering again following Real Madrid's controversial Champions League win over Bayern Munich, once again appearing to the world as football's married couple who are only staying together for the sake of the kids. Or the Spanish national team, in this case.
Ronaldo slowing down but still incredible
The time-honoured clash has developed as their rivalry has intensified playing for their respective clubs.
Going into El Clasico, Goal looks back at some of the quotes exchanged between the rivals:
"Nothing new, I'm not surprised. He should look back to the PSG game and see if he thinks the same about the referee."
Ramos didn't take too kindly to Pique insinuating that referee Viktor Kassai played a big part in Madrid's Champions League win over Bayern Munich with his ellipsis tweet following the game, implying that officiating was as much to blame in Barcelona's famous comeback against PSG.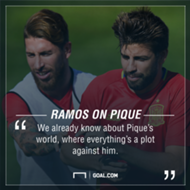 "For me this is a show. I don't get upset at what they [Marcelo and Ramos] said, and I hope they don't get upset when I do the same. I like the type of wordplay they use."
Pique, however, isn't one to bite when people make comments about said officiating. Really.
"Against the same teams, eight points. Eight points and such."
The former Manchester United man is as happy to criticise refereeing as his Madrid counterpart, airing this view on Twitter after another generous display towards Real, against Villarreal. Barca dropping points against the same opponents earlier in the season probably didn't help his mood.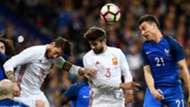 "I would be surprised if it was [Lionel] Messi [who wrote something like that]. We already know about Pique's world, where everything's a plot against him."
Like a dog with a bone, though, Ramos didn't let that go, replying with this in an interview with Marca, shortly after the game.
"Disrespect is bad for the atmosphere around a team. Pique should follow the example set by [Carles] Puyol, Xavi, Raul or Iker [Casillas]."
Poor old Alvaro Arbeloa. In this case he's the equivalent of the mate who doesn't want to get involved in the argument, but does anyway, albeit accidentally. The Barcelona defender took to Twitter to have a dig at his fellow countryman, before Ramos came wading in to save the day, and to have a pop at Pique, again.
"We have to tell him to wear white more often, it fits him very well."
The Real Madrid defender shares a joke with the media about his counterpart, after Spain appeared in their change kit against France.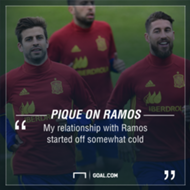 "In Andalusian, ask him in Andalusian."
Ramos scoffed this mid Spain press conference, following a journalist requesting that Pique answer his question in Catalan.
"We all know what Pique is like, we can't change that now and there's no point getting into whether he always acted the right way in the last few years – we're all Spanish here and we're representing a country. Booing doesn't do anyone good."
Perez wants Galactico signing as Madrid elections near
Despite their rocky relationship, when it comes to playing for Spain, Sergio has his partner's back, with these comments after Pique was booed by Spain fans for his support for Catalan independence.
"My relationship with Ramos started off somewhat "cold"."
You don't say, Gerard.
"We throw stones, but when we meet, we will embrace."
It seems the pair have gone from one extreme to the other, with this quote from Ramos in March, ahead of the international break. Although, if your national team can't bring you back together, what can?