Diego Simeone
Argentina legend Diego Simeone wears Uruguay shirt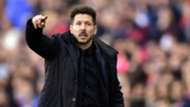 Argentina fans got a jolt this weekend, seeing a national team legend trade out the Albiceleste shirt for that of a rival.
'New' England show Rooney's time is up
Atletico Madrid coach Diego "El Cholo" Simeone used the international break to get in a kickaround of his own with friends, but his team suited up in the shirt of Uruguay.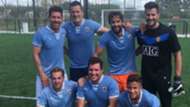 With more than 100 international appearances, it's far too late for the 46-year-old former midfielder to attempt to clear a one-time switch with FIFA, with many Argentina fans continuing to dream that Simeone will one day take the reins of Argentina.
For now, Simeone is focusing on getting Atletico back into the top three in Spain - and winning his kickabout where his team included Independiente's former president Julio Comparada, Boca Juniors vice-president Horacio Paolini and Simeone's son, Giuliano.