A-League
Antonis determined to 'go places' with Wanderers
Goal Australia Chief Editor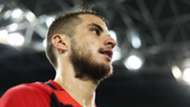 After a tough 18 months in Greece, Terry Antonis has declared he's "in a good place" with Western Sydney Wanderers but insists he won't be content with just one A-League final this season.
Antonis has been integral to the Wanderers' late surge after joining on loan in December, with Western Sydney having gone unbeaten in the final six rounds of the regular season to finish sixth and secure an elimination final against Brisbane Roar.
Just a week after the 23-year-old made his Wanderers debut in January, Tony Popovic's side slumped to eighth in the A-League table but Antonis' partnership with Kearyn Baccus in central midfield has seen the Red-and-Black turn their form around.
It is exactly what Antonis needed.
"I'm in a good place at the moment," he told Goal on Wednesday.
Popovic's appeal lured Antonis to WSW
The midfielder has notched two goals and two assists in 12 appearances in all competitions for Western Sydney.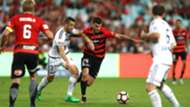 Having done the hard work to make the finals, Antonis is convinced Western Sydney have the mentality to make an impact in the battle for the championship.
"When I first got there, I saw a team that was really determined and they wanted to go places and that was perfect for me," he said.
Having made his professional debut for Sydney FC at 17, it feels like Antonis has been around forever.
Elimination finals set after A-League's final round
But the Bankstown-born midfielder has experienced his fair share of adversity along the way with a move to Parma in 2013 having fallen apart after he suffered a major injury, while fitness issues also saw his career stall in Greece.
Antonis joined PAOK before the 2015-16 season but missed the start of the Greek Super League after injuring his quadriceps.
By the time Antonis secured a loan stint back home he had played just seven games in all competitions at PAOK, while a loan stint at Veria for the first half of this term was similarly difficult.
"[The injury] set me back a fair bit. I went to a new club and I was unlucky, you know, I got injured and I was six weeks out and then had to get myself ready," he said.
Antonis hopes to escape Parma contract
"But I got myself fit and I was playing and then I was unlucky again.
"I was playing under one coach, something happened and another coach came in and it was a bit difficult for me to be playing again."
Antonis is now focused on knocking off Brisbane on Friday night.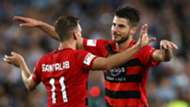 The Wanderers are unbeaten in their past three away games in all competitions, and Antonis believes the team's nomadic existence as they await the completion of a new Wanderland in Parramatta could benefit them at Suncorp Stadium.
"We haven't had our one stadium where we've played out of, so we're used to playing at different stadiums and I think for us, we have the mentality that we don't care where we're going to play, we just want to show the other teams what we have," he said.
Western Sydney have split their A-League matches between Spotless Stadium and ANZ Stadium in 2016-17, while Campbelltown Stadium has been their home for the AFC Champions League.