Women's Asian Cup
All-female team break world record with football match at lowest point on land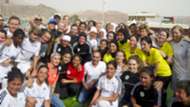 A diverse mix of pioneering female football players broke the Guinness World Record for the lowest altitude football match ever played.
The six-goal thriller in the Dead Sea region of Jordan, in western Asia, saw players from across the globe play 320 metres below sea level.
Players from more than 20 countries including the US, UK, Australia, Palestine and Syria were split into two teams called the White Tigers and the Black Irises, with the latter winning 4-2 over 90 minutes.
Thursday's match came after a 90-kilometre walk across Jordan and was part of a push to promote gender equality in sport ahead of the Women's Asian Cup, which kicked off on Friday and features the best national teams on the continent.
"I thought the game was wonderful," said the president of Jordan's FA, Prince Ali bin Hussein, who dubbed the specially-constructed pitch the 'Equal Playing Field pitch' in honour of the women who contested on it.
"It was great to play a competitive game of football on a top-quality pitch," said Laura Youngson, co-founder of Equal Playing Field (EPF).
"We were able to showcase the best of women's football with our team of strong female athletes from around the world. It was humbling to see the size of the crowd and to inaugurate the community pitch with a world-record match."
Players included Jordan's top goalscorer Farah Azab, ex-France national player Sandrine Dusang, Afghanistan captain Shabnam Mobarez and American pro striker Ashley Hall.
Many of the players involved in the record-breaking game in Jordan also broke the Guinness World Record for the highest altitude football match nine months ago in the crater at the top of Mt. Kilimanjaro, 5,714m above sea level.
EPF partners with not-for-profit organisations for football clinics that promote its message of gender equality in football and receives support from the Asian Football Development Project.