Arabian Gulf League
AGL Awards: Al Jazira and Ali Mabkhout dominate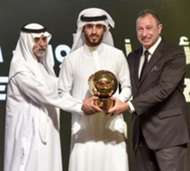 Ali Mabkhout phenomenal campaign was capped by a superb night on Monday when he won three accolades at the Arabian Gulf League awards ceremony for the 2016-17 season.
Maradona refused offers for Al Fujairah
 
Finishing the campaign as top scorer with 32 goals, Mabkhout won the Golden Boot while he also picked up the Golden Globe Award for the best player Emirati Player. A spot in the Team of the Season completed his triumvirate for the night. 
Jazira's 22-year-old attacker Khalfan Mubarak won the Golden Boy award for the best promising player with goalkeeper Ali Khasif taking home the Golden Glove award.
Ahmed Al-Attas was awarded the Silver Boot as the top scorer under 21 years. Meanwhile, Faris Juma, Mohammed Fawzi and Salem Rashid also made it into the Dream Team from the Abu Dhabi outfit.
 
Al Jazira coach Henk Ten Cate however, did not win the Coach of the Year award as the honour was instead given to Al Ahli boss Cosmin Olaroiu.
 
Al Wahda Club were also honoured as The Professional Club of The Year. Al Wasl's Brazilian forward Fabio de Lima was named the Golden Ball winner in the foreign player category