India
AFC women's Asian Cup 2018 Qualifiers - India women's national team thrashed and eviscerated from group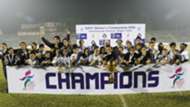 The Indian national women's team, competing in the Asian Football Confederation's (AFC) Asian Cup 2018 Qualifiers, have had their hopes of participating in the headline women's tournament quashed after being eliminated at the group stages. 
The qualifiers are being hosted in Korea  Democratic People's Republic (DPR).  
The Blue Maidens had been placed within Group B, alongside the hosts, Uzbekistan, Hong Kong and South Korea. They kicked off their campaign at the Kim Il-Sung stadium in Pyongyang, the northern Korea's capital. 
The Reds eves would eventually win 8-0, courtesy of braces from Wi Jong Sim and Kim Phyong-hwa. Ri Hyang-sim, Ri Un-yong, Sung Hyang-sim and Ri Kyong-hyang each added to the scoreline to increase the effct of the pummelling.   
The Indian Tigresses would endure their worst result of the round, when South Korea thrashed them 10-0. Lee Geum-min scored the only hattrick of the match, where Ji So-yun also scored a brace. The match was hosted in Pyongyang. 
In their latest defeat, Uzbekistan's women's team sealed the Indian eves' fate with a resounding 7-1 victory. Karachik Lyudmila and Sarikova Makhilyo both scored a brace each in the outing at the Kim-Il Sing stadium. Bala Devi was the lone scorer for the women from the subcontinent. 
The ladies now face another team that's been eliminated from their group, Hong Kong on 11th April. In all, the Sajid Dhar coached side has conceded 25 goals and replied with only one in three games in the Korean peninsula.