Premier League
Adam: Premier League clubs "all want to buy foreign players" over Scots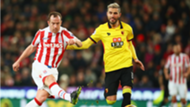 Charlie Adam believes the lack of Scottish players and managers in the Premier League is due in large part to teams feeling more comfortable with established foreign options.
The Stoke City midfielder is one of the dwindling number of Scottish players in the Premier League.
Stoke 11/5 with dabblebet to beat West Brom
Only 15 Scottish players ply their trade in England's top flight and Liverpool's Andy Robertson was the only Scot to start for a top-eight side this past weekend.
According to Adam, his countrymen represent value, but he insists that the established talents from abroad are what Premier League teams currently covet instead.
"It's important to say there are good young Scottish players coming through and for the English clubs they do represent good value. But right now it's all about the foreign market – they all want to buy foreign players down here," Adam said in quotes published by the Daily Record. "I'm still surprised the number is so low and it's incredible to think there isn't a Scottish manager in the Premier League now.
"But it's tough because the league is evolving all the time. It's getting bigger and more difficult to get into with every year that passes, so it will be hard to increase those numbers.
"The fact is the foreign market offers them more quality players right now.
"I've no doubt Stuart Armstrong at Celtic, for example, could come down and play in the Premier League.
"But the English clubs don't want to do it at the moment."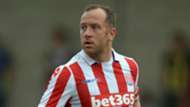 Adam also brought up the case of his team-mate Harry Souttar, who he believes is capable of being a quality first team player down the road but simply can't get a game with the options Stoke have available. 
"We've got a young Scottish player at Stoke in Harry Souttar. He has real potential and could go on to play in our first team," he added.
"He's got the size, he's quick and he wants to learn. He has the attributes to play for us in the Premier League.
"But these boys need an opportunity and that's where it's difficult.
"Even at a club like Stoke we can afford to go and spend £10 million on a player, so it's hard to get them in."
Adam added later: "Rather than put a Harry Souttar in we can go and get Kurt Zouma on loan from Chelsea. That's the reality."
The 31-year old also expounded on his concern over Scottish managers not getting chances. Currently, there are no Scottish managers in the top flight, after David Moyes parted ways with relegated Sunderland during the summer.
There is also just one current Scottish manager in the Championship, Norwich's Alex Neil.
And Moyes' unemployment is of particular surprise to Adam, who thinks that foreign ownership of Premier League clubs has led to an increase of managers born outside Britain. 
"I was speaking to Davie Moyes at the Fleetwood v Carlisle game recently and his insight on the game was incredible. Yet he's out a job," he said.
"He has so much experience in the game, he's someone you want to learn from. Guys like Davie should still have an input into the Scottish game even when they're out of work.
"But to get a Scottish manager in the Premier League now will be hard. There's so much foreign investment in clubs now – the owners want a foreign coach as well."