United States
Yedlin says USA's goal must be to win World Cup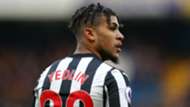 DeAndre Yedlin has said that the United States must set their sights on winning a World Cup, despite their recent failure to qualify for Russia 2018. 
The U.S. ended a streak of qualifying for seven consecutive World Cups when they were shocked by Trinidad & Tobago in October, falling short of the World Cup for the first time since 1986.
Despite that failure, Newcastle right back Yedlin says his country should be aiming for the very top of the soccer world. 
"For me, I want to win the World Cup. If that's not the goal then I don't think you should be playing," Yedlin told NBC Sports.
"A lot of people will say that isn't realistic but for me, I will say, 'Why?' Why isn't that realistic? Leicester City won the Premier League and nobody thought that could happen but it did.'
"If that's [winning the World Cup] not the ultimate goal then I think we should reevaluate things."
In order to win the World Cup, of course, the U.S. must qualify, and Yedlin believes his country's recent disappointment could be a motivating factor as it looks toward Qatar 2022.
"I wouldn't call it a blessing in disguise but I think now, especially the guys that have come through it, now we feel what disappointment is like, not making the World Cup," Yedlin said.
"Now there is going to be an extra gear that is hit to make sure we make the next one but not only make it but do well in it."
With the team's next shot at a World Cup not coming for at least four years, Yedlin, 24, believes the time is now for the USA's younger generation to take over.
"Every international career is going to come to an end you're going to pass it down to the younger generation," Yedlin said.
"Every career comes to that point. I think they [the older generation] are happy with doing that and they know we have some talented players coming in."
Yedlin and his Newcastle United side face a tough task this weekend, with Jose Mourinho and Manchester United visiting St James' Park.