World Cup
Why Neuer shouldn't be Germany's World Cup No.1 even if he's fit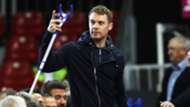 The countdown to the World Cup is definitely on. There is now less than a month to go until the world's biggest football tournament kicks off in Russia, with the 32 participating countries announcing and finalising their squads for the competition.
For Germany, the counting goes in a different direction. On Tuesday, when Joachim Low announced his preliminary pool of players for the World Cup, it marked 241 days since Manuel Neuer last played a competitive game.
The 32-year-old has widely been regarded as the world's best goalkeeper in recent times, having been named in the FIFPro World XI in four of the last five years. Despite his clear world-class ability, Low is taking a huge risk by bringing him to Russia.
On paper, Neuer would undoubtedly be one of the best goalkeepers at the tournament, but on the pitch, he could fail to deliver. With Germany looking to retain their world crown, starting an unfit player should be out of the question, but Neuer's inclusion in the provisional squad alongside Marc-Andre ter Stegen, Kevin Trapp and Bernd Leno means that Low is giving him every opportunity to prove his fitness ahead of the tournament.
In 2017-18, Neuer played just 360 minutes of competitive football, missing almost the entirety of the season with a metatarsal fracture, which had also ruled him out of the last five games of the previous campaign. 
There were many false dawns for Neuer's return, not least that four-game spell where he lined out for Bayern Munich in September before being sidelined indefinitely. Since the Bundesliga winter break, a comeback has been speculated and delayed multiple times, with only one club game left this season: the DFB-Pokal final where Jupp Heynckes is unlikely to risk him over the usually-reliable Sven Ulreich in his last ever game as Munich head coach.
Former Bayern and Germany goalkeeper Oliver Kahn believes that Heynckes' decision not to play Neuer with the Bundesliga already secured was a sure sign that Neuer is nowhere near ready to play in Russia.
"When he still does not play that's a clear sign he is not 100 per cent fit yet," Kahn told Bild am Sonntag. "Otherwise, he surely would have been given the chance to play from Jupp Heynckes.
"It's a hard decision for the people responsible. And Manuel has to ask himself if he still does himself a favour with all this."
Others are advising caution, believing that Low should not be hasty making his final decision on Neuer until the last possible moment.
The final 23-man squad list does not have to be submitted to FIFA until June 4, which comes between Germany's pre-tournament friendlies against Austria on June 2 and Saudi Arabia six days later.
Neuer will join the provisional squad for their training camp, giving Germany team doctors a chance to monitor his progress up close. Jens Lehmann went to three World Cups with Germany, and feels that Low is right to take his time with this decision.
"You should wait as long as you can for him," Lehmann told Bild. 
"If he can make the cup final against Frankfurt and the two friendly internationals, it should be enough. But he must play against Austria and Saudi Arabia, otherwise he cannot play in my opinion at the World Cup.
"If he only starts with the World Cup knockout round ... then we'll only get him at 50 per cent, and that's not enough."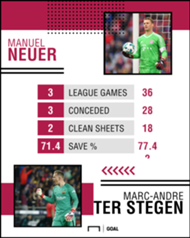 Neuer's fitness would be a major concern for other countries, but the Bayern keeper sitting out the World Cup will not have a major impact on Germany's chances of success.
Barcelona goalkeeper Ter Stegen has played just 19 times for Germany to date, but is travelling to Russia on the back of an excellent season at club level, winning the Spanish double and keeping a clean sheet in 18 of his 36 La Liga appearances.
The 26-year-old was also Germany's goalkeeper as they lifted the 2017 Confederations Cup, replacing Leno after the opening game and going on to be named Man of the Match in the 1-0 win over Chile in the final.
With Neuer absent at club level, contenders to his throne of the world's greatest goalkeeper began to emerge. Gianluigi Buffon was chosen in the FIFPro XI following his domestic double and run to the Champions League final with Juventus, while David de Gea won his first Premier League Golden Glove. In Spain, Jan Oblak kept the most clean sheets, but faced strong competition from Ter Stegen, who also impressed in Europe.
After Barca's scoreless draw with Buffon's Juventus, Lucas Digne argued that the German was playing better than any other shot-stopper.
"For me, Ter Stegen is the best goalkeeper in the world right now," Digne told reporters. "He is playing at an extremely high level."
Although he is not the undisputed world number one, like Neuer has been for many years, Ter Stegen is fully fit heading to the World Cup. There are no risks involved in choosing him as Germany's goalkeeper.
Even if he proves himself fit, Neuer's lack of competitive action could be a problem and is a risk not worth taking for Low and Germany.