Serie A
Who is Juventus' Player of the Season?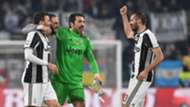 Juventus are on the verge of history. Take a point from Sunday's game against second-placed Roma and they will guarantee themselves a sixth successive Serie A title, something that no club has ever done before.
However, it could just be the first leg of a first ever treble for the Bianconeri, who will meet Lazio in the Coppa Italia final in Rome on Wednesday before bidding to win a third European Cup when they tackle reigning champions Real Madrid in Cardiff on June 3.
So many of Massimiliano Allegri's men have played pivotal roles in what has already been a remarkable campaign and honourable mentions must go to the likes of Leonardo Bonucci, Dani Alves, Alex Sandro, Miralem Pjanic and, in particular, Paulo Dybala.
However, Goal has selected Juve's top three performers of the 2016-17 season in descending order and, given there were some incredibly close calls, feel free to join the debate in the comment box at the bottom of the page!
---
3. GONZALO HIGUAIN
---
Whether Gonzalo Higuain is worth €90 million remains open to debate. The Argentina international was bought with the specific objective of winning the Champions League — and that target has not yet been achieved.
However, there is no denying that the 29-year-old centre-forward has made Juve even better than they were last season. To date, he has hit 32 goals in 50 appearances in all competitions. Even more impressively, so many of those strikes have been crucial.
He began his Juve career by netting the winner against Fiorentina — just nine minutes after coming off the bench in Turin — and, though there have been dips here and there, he has continued to score important goals. Indeed, there have been decisive strikes against Torino and Roma, as well as four goals against Napoli, including three in the Coppa Italia semi-final tie with his former club.
Higuain's most significant contribution, though, was his double in the first leg of the Champions League semi-final at Monaco, which suggested that not only can he deliver in big games, he might also be the man to end Juve's 21-year wait for a third European Cup. Do that and €90m will actually look like money well spent.
---
2. GIORGIO CHIELLINI
---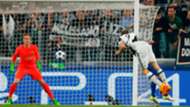 Faced with the daunting task of trying to nullify Barcelona's feared MSN forward line, Giorgio Chiellini mused, "Knowing what you need to do, though, is one thing — producing it when you need to is another thing altogether."
Chiellini, though, has always been able to walk the walk. The uncompromising defender rarely gets the credit he deserves, but he was widely lauded for the comprehensive man-marking job he did on Luis Suarez over both legs of Juve's 3-0 aggregate defeat of Barcelona in the Champions League.
The 32-year-old didn't just outplay the Uruguayan striker, he outscored him too, netting a towering header that effectively put the tie beyond the Blaugrana.
Chiellini may not have the eye-catching passing skills of his central defensive partner Bonucci, but there is arguably no more ruthlessly effective defender in world football.
---
1. GIANLUIGI BUFFON
---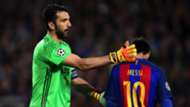 After watching Gianluigi Buffon make a couple of uncharacteristically sloppy mistakes earlier in the season, Juventus fans felt compelled to show their unwavering support for their No.1.
"Even Superman is 'only' Clark Kent sometimes! Gigi, you'll always be our superhero," read a banner unveiled before kick-off in the Champions League group-stage clash with Lyon at the Stade Gerland.
That night, Buffon delivered an even more impressive riposte to those daring to suggest that time had finally caught up with the 39-year-old by turning in one of his finest ever performances, the highlight of which was a stunning stop of a deflected effort from Nabil Fekir.
The Italy captain has only gone from strength to strength in the interim, even going a record-breaking 689 minutes without shipping a goal on Juve's run to the Champions League final.
Victory over Real Madrid in Cardiff next month would be a fitting end to one of the greatest seasons of Buffon's truly incredible career and might just earn him the Ballon d'Or he so richly deserves.