Arsenal
Vieira? Allegri? Enrique? No standout candidate to succeed Wenger, says Dixon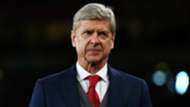 Arsenal's search for a successor to Arsene Wenger is producing no "standout candidate", according to club legend Lee Dixon.
With the Gunners set to be in the market for a new boss this summer - for the first time in 22 years - several names have been offered up as potential appointments.
If those at Emirates Stadium decide to go for experience, then the likes of Juventus coach Massimiliano Allegri and former Barcelona manager Luis Enrique are considered to be in the frame.
They could, however, opt to favour club ties, which puts former favourites such as Patrick Vieira and Thierry Henry in contention.
Dixon admits the Gunners face a tough choice, telling ITV Sport: "My personal opinion is that I'm really caught between the two [experience and club ties].
"I think the team needs a new direction and mentality based on [being] a little bit more defensive-minded. 
"It's alright saying 'We need a new defence', but it's not about that, it's about the balance between having the ball and not having the ball. 
"They're decent with the ball and not very good without it so somebody like the Italian George [Graham] as we call him, Allegri, coming in and making that more of a priority.
"I would still like to see somebody that's Arsenal through and through. That would suggest somebody like Patrick.
"He's obviously inexperienced and there's a huge amount of work to do there. All the recruitment has to change because they've not recruited well enough for me over the last few years. 
"That needs to change and that might be beyond Patrick's remit. So it's a really difficult one. 
"[Then there is] Somebody like Luis Enrique, who has got the experience of managing a big club like Barcelona coming in and putting his stamp on the club.
"There's no one standout candidate for me. It's kind of a mixture of everybody."