Concacaf Gold Cup
U.S. leans on veteran leadership to claim sixth Gold Cup title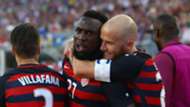 SANTA CLARA, Calif. — It took a 22-year-old forward to deliver the game-winning goal, but the U.S. national team's veterans provided the poise and quality when the Americans needed it the most to help them lift the CONCACAF Gold Cup for a sixth time.
Jordan Morris' 88th-minute winner allowed the U.S. avoid a surprising loss to an inspired Jamaican side, but it was the play of Jozy Altidore, Michael Bradley and Omar Gonzalez that helped the Americans keep Jamaica from beating them for the second Gold Cup in a row.
USA player ratings from Gold Cup final
Altidore's free-kick stunner just before halftime set the tone for the night, while Bradley's relentless work in the midfield made up for some nervous performances from Darlington Nagbe and Kellyn Acosta. Gonzalez was dominant in the back, breaking up countless Jamaican attacks and partnering well with Matt Besler to limit Jamaica's chances.
"Our older players are unbelievable," U.S. coach Bruce Arena said. "The passion they have for this program, from our oldest player, Tim Howard, to our captain, Michael Bradley, to Clint Dempsey. Clint Dempsey is going to do whatever's necessary for this team to be successful, so this is encouraging stuff."
It was a special night for Altidore, who exercised some tournament demons with his outstanding performance. Injuries had cost him all or part of five different tournaments since 2011, and this Gold Cup wound up being the first one he made it through unscathed since the 2010 World Cup. He followed up his game-winning goal in the semifinal win against Costa Rica with a beautiful free-kick finish that gave the U.S. a confidence boost before the halftime break.
GOAL United States, @JozyAltidore No. 27 | @ussoccer @ItsTheJFF #GoldCup2017 pic.twitter.com/7QDscOMzUE

— Gold Cup 2017 (@GoldCup) July 27, 2017
Altidore's goal was fitting considering it was six years ago that he saw a promising 2011 Gold Cup ended in the quarterfinals by a hamstring injury suffered against Jamaica. On Wednesday, he played like someone not only intent on finishing this Gold Cup healthy but with a trophy in his hands. He didn't wind up adding a second goal to his tally in the second half, but his ability to keep the ball and his defensive hustle helped close the game out, right down to the final seconds of the match.
"It means a lot. People from the outside may take it for granted, but we as players, you don't get a lot of chances to win trophies," Altidore said. "For me, I haven''t been able to be a part of some really big moments the past few years. To me, this is a massive moment and I'm really happy that I got to share it, my family was here and it means a lot to me."
It had been a choppy first 40 minutes for the U.S. before Altidore's goal, with several of the team's less experienced players showing some nerves and uneasiness on the big stage. Nagbe and Acosta struggling to find a good rhythm early on, and Paul Arriola unable to find the game in the opening third of the match.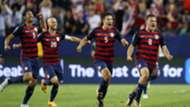 Amid that unsettled play, the calm and confident touches of Bradley and Altidore helped provide a desperately needed anchor. Bradley was particularly important during a match in which the rest of the U.S. midfield didn't always look particularly confident. Bradley's midfield partners eventually settled down, with Nagbe and Arriola showing better after some initial jitters, but it was the work of their captain that helped get them through an unsteady first half.
U.S. much stronger under Arena
"I don't think anyone can question the ability of Bradley or Altidore," Jamaica coach Theodore Whitmore said. "They're world-class players, experienced players. You can't question their ability."
"They're always huge," Morris said of Bradley and Altidore. "Jozy's free kick, you see the quality there, but in the locker room they're such great guys that calm us down. They've been part of those big moments before, so for us it's learning from them and trying to just be calm in those big moments and they really help with that."
It was performances like Wednesday's that helped Bradley win the tournament's MVP award despite the fact he only played in the knockout rounds, and as much as Jamaican goalkeeper Andre Blake could have made a strong argument for the award, Bradley's quality was undeniable.
Gonzalez also finished off a good Gold Cup with one of his best games of the tournament. After taking a short vacation following the June qualifiers, Gonzalez worked his way back into the national team mix slowly, but once he hit his stride in the Gold Cup he became a force, scoring a pair of goals during the tournament and solidifying the defense in the knockout rounds to add another winner's medal to his impressive collection.
"Actually Omar told me at the end of the game that's another trophy we've won together," Arena said, referring to the three MLS Cup titles he and Gonzalez won together with the LA Galaxy. "I never thought of it that way. He did a great job. At halftime we were a little concerned we would have to take him out of the game. He had a little bit of a groin strain. Look at his history, at every level he wins so give him a lot of credit for that."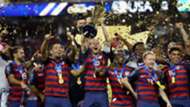 The team's most veteran player played his part as well, as goalkeeper Tim Howard stepped up in a key moment with a big save when the match was tied at 1-1 in the second half. It marked the third straight match where the U.S. defense surrendered a dangerous chance only to have Howard step up to keep the U.S. from falling behind, and eventually helped the goalkeeper win his second Gold Cup to go along with his 2007 title.
"As you get older, you realize these come few and far between," Howard said. "I've been very fortunate to go to quite a number of cup finals — I've not won as many as I'd like. There was a time where you think they're just going to keep coming, and you realize now that there might not be another one after this. It's hard to tell the young players that because they're young and they think it's coming again, but for me, I know that his may be my last chance. So it's beautiful, it's sweet."
Then there was Clint Dempsey, who once again came off the bench to make an impact. His slight touch on the ball helped tee up the Morris winner, giving the veteran striker his third assist of the tournament to go with his memorable free kick in the semifinal win against Costa Rica, helping him win his third Gold Cup title.
"It feels more special, because I'm older and I appreciate it more," Dempsey said. "I know that there's not a lot more opportunities to win cups. To say I've won three is something that I'll remember, and to be able to say that I've tied the (U.S. goal-scoring) record during the process, three games to chip in with a goal and three assists, I'm proud of that.
GOAL United States, @JmoSmooth13 No. 8 | @ussoccer @ItsTheJFF #GoldCup2017 pic.twitter.com/mcKCIDitqZ

— Gold Cup 2017 (@GoldCup) July 27, 2017
Arena will come away happy with how a player like Morris performed. He played well for the second straight match, rewarding Arena's faith after the U.S. coach chose to start him and play Clint Dempsey off the bench in the semifinals and final.
This Gold Cup was supposed to be a good opportunity for some younger options to step up and impress, and Morris did just that. Acosta and Arriola also showed well enough to earn Arena's confidence to the point of earning starts in a final, and while they were far from perfect, they showed enough to make Arena a believer in their quality and potential.
As promising as the youngsters were, Arena will come away from the Gold Cup most satisfied with the play of his key veterans.
"(Altidore and Gonzalez) have been around a lot and they really have a passion for this program," Arena said. "Those guys, along with Michael and Tim, really set the tone. We have to have the tone set the right way if we're going to get through these next four World Cup qualifying games."
Several youngsters gained valuable experience in this Gold Cup, and they can thank the team's top veterans for helping them leave the tournament with a winner's medal.