Transfers
U.S. prospect Sargent agrees to deal with Werder Bremen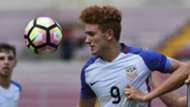 U.S. youth international Josh Sargent has agreed to sign with Werder Bremen upon turning 18 in February, the Bundesliga side announced Wednesday.
Sargent will join Bremen after representing the U.S. at next month's U-17 World Cup in India, with the 17-year-old striker set to start training with the club's U-23s in the new year.
He joins Bremen from youth club St. Louis Scott Gallagher Missouri after sources first told Goal an agreement had been reached in May.
"My full concentration is first and foremost on the World Cup and the time I have left in Missouri," Sargent said in a news release. "But I am really looking forward to next year and the new challenge in Bremen.
"Werder made a huge effort with me and they have always shown in the past that they give young players like myself an ideal introduction to professional football. That meant that my decision to continue my career in Bremen was not a hard one to make."
Sargent burst onto the U.S. scene earlier this year, scoring five goals in the CONCACAF U-17 Championship before earning a roster slot for U-20 World Cup in South Korea. He went on to score four goals in five matches as the U.S. advanced to the quarterfinals.
"We have been keeping tabs on Joshua for a long time and so it isn't a great surprise to us that his brilliant performances have attracted attention on an international scale," said Tim Steidten, Bremen's head of squad planning and scouting.
"Therefore we are extremely happy that despite the numerous offers from other top clubs in Europe, he was convinced by our philosophy at SV Werder and that we can now oversee his development as a player and support him along the way. He has a great understanding of the game and he is one of the most promising talents of his age in the world."