United States U17
U.S. U-17s top Brazil 3-0 to win Nike Friendlies championship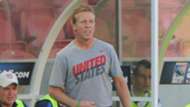 The U.S. Under-17 national team rolled past Brazil 3-0 on Sunday to clinch the top spot at the Nike International Friendlies, winning the competition for the first time since 2013.
Ayo Akinola, Josh Sargent and Timothy Weah provided the goals in the victory, the Americans' third in as many matches. 
"I was in this job previously in my career and I've talked about it a lot, our soccer and tactical understanding are getting better," coach John Hackworth said in a news release. "The players are technical enough now that we can play against the best teams in the world and in some cases, not only compete with them on a technical and tactical side, but be successful like we were this week. I don't like to put results and development together as one, but it is an important part of the process that you learn how to be successful, in these games and tournaments.
The U.S. opened the event, which took place in Lakewood Ranch, Florida, with a 7-1 victory against Portugal. It followed that up with a 5-1 win over Turkey. That set up a championship match of sorts against Brazil, which entered the final matchday with four points from its two matches.
The goal Sunday extended Akinola's tally this year to 19, which leads the team. Sargent, who had a hat trick against Portugal, took his 2016 total to 13. Akinola, Sargent and Andrew Carleton each scored four goals over the course of the tournament, and Justin Garces was named the best goalkeeper at the event.
The U.S. U-17 team's record moved to 19-4-6 in 2016 with the victory.