Tottenham Hotspur v Ajax
UEFA Champions League Super Saves: Hugo Lloris vs Andre Onana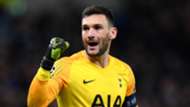 Tottenham Hotspur are all set to lock horns with Dutch giants Ajax Amsterdam on Wednesday in the semifinals of the UEFA Champions League.
As the prestigious European competition heats up, both teams will be looking to gain an advantage in the race to reach the summit clash in Madrid.
Spurs are coming into the clash after eliminating Manchester City in thrilling fashion while Ajax have accounted for the scalps of two former champions in Real Madrid and Juventus.
Goalkeepers of both the teams - Hugo Lloris and Andre Onana - have been brilliant for their teams, coming up with terrific saves whenever called upon.
Here we feature the best saves from the two custodians: