eSports
Three new teams to join as eMLS return confirmed for FIFA 19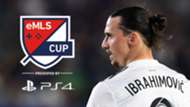 Major League Soccer and EA Sports have announced that the eMLS will return next year for FIFA 19 with three new teams joining the mix in the PlayStation league.
The eSports league has expanded to 22 teams with Atlanta United, D.C. United and MLS newcomers FC Cincinnati all looking to take down the reigning champions, Houston Dynamo.
Dynamo and the rest of the 19 original teams from the inaugural eMLS season will return with Chicago Fire, Colorado Rapids, Columbus Crew SC, FC Dallas, LA Galaxy, Minnesota United FC, Montreal Impact, New England Revolution, New York City FC, New York Red Bulls, Orlando City SC, Philadelphia Union, Portland Timbers, San Jose Earthquakes, Seattle Sounders FC, Sporting Kansas City, Toronto FC and Vancouver Whitecaps FC all competing once again.
Of the current participating teams, only Real Salt Lake and Los Angeles FC are missing.
The format for next season has also expanded as the eMLS next year will be comprised of two tournaments before the returning MLS Cup. Kicking off the new year will be the eMLS League Series One hosted in conjunction with the LA Galaxy in January before the eMLS League Series Two with FC Dallas in February.
All eMLS players will participate in both events with different prizes (currently unannounced) available at each.
The results of the eMLS League Series will decide the seeding for the 2019 eMLS Cup, where the second eMLS champion will be crowned and receive 850 crucial EA SPORTS Global Series qualification points which will aid their hopes of competing in next year's eWorld Cup.
The Playoffs for the eWorld Cup had six eMLS representatives - the second most of any virtual league, with only Germany's Virtuelle Bundesliga producing more.
"eMLS is an accelerant to growing fandom in North America through the increasing connection between virtual and real-world soccer," said Brent Koning, EA SPORTS FIFA Competitive Gaming Commissioner.
"Our partnership with MLS and the 22 eMLS clubs elevates competitive FIFA through the power of sports and eSports, and provides an engaging platform to attract new fans, sponsors and partners to the game."