Take the GOAL™ CHALLENGE and WIN a very special trip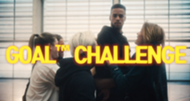 To celebrate the launch of the lifestyle fashion brand of GOAL™, the world's #1 digital football website is launching a competition to test your skills.
We are challenging you to make the most mind-blowing top-right corner trick shot imaginable, in homage to the GOAL™ logo.
And there are plenty of top prizes up for grabs!
GOAL CHALLENGE

Get creative – show us your skills! 🤳 Take the GOAL™ CHALLENGE and WIN a very special trip ✈

Posted by Goal.com on Friday, 19 April 2019
The 11 GOAL™ Ambassadors from all over the world will lead the competition on their Instagram, so make sure you take a peek at their trick shots and make crazier trick shots that theirs!
So don't limit yourself to a football pitch and a run-of-the-mill strike - your entry can be a trick shot from anywhere in your daily life, with any kind of ball or object.
We're after the absurd and the awesome, so get creative!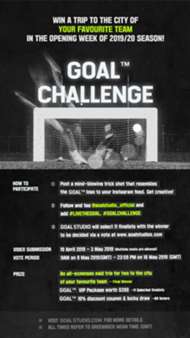 Make sure you film your efforts (we're accepting multiple entries) and submit them via Instagram to @Goalstudio_official, using #LIVETHEGOAL and #GOALCHALLENGE, by Friday, May 3rd.
There's amazing rewards waiting for those who show outside-the-box trick shots and a reward for everyone who participates in the vote. The overall winner will be receiving an all-expenses-paid trip to the city of their favourite football team during the first week of the 2019/20 season!
Meet the GOAL™ Ambassadors: @celine.dept, @conorreynoldsfs, @danielgothits, @hiro_k0529, @ibk_fs74, @kazaneshimazaki, @luca95freestyle, @parkfreestyle, @ricardochahini, @sitzstyle, @yoannafreestyle