Xherdan Shaqiri
Shaqiri fires back at Charlie Adam: He was the guy who got sent off & missed a penalty!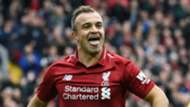 Liverpool attacker Xherdan Shaqiri has hit out at Charlie Adam, insisting that he is a player who works hard regardless of the circumstances.
Adam hit out at the Swiss when he signed for the Reds during the summer, claiming that he was one of the big-name players who let Stoke City down in their relegation battle last season.
However, the 26-year-old has responded, claiming that the Scot, who played for the Anfield side during the 2011-12 season, is simply "jealous".
"I'm a totally different type of person," he told the Evening Standard. "Some ex-football players, or ex-team-mates, they spoke to the media and it looks like I am a bad boy or something but I've never been a bad boy or had some problems at a club! 
"I think it's just frustration maybe or jealousy because I had a good move. 
"I was surprised that he spoke like this about me but that is sometimes the character of a player. 
"I know what he said was totally wrong because at that time I played there - especially when times were hard - I was there and I was scoring a lot of goals. 
"I was one of the only ones who helped the team with goals in difficult games and he was that guy who took the red card in league games [against Everton] and missed a penalty [against Brighton].
"For me, I'm a nice guy who likes to joke, so I think the people who spoke about me were totally wrong."
Shaqiri, who courted controversy during the World Cup for celebrating with the Albanian 'double-headed eagle' symbol against Serbia, does not feel he has anything to prove to anyone.
 "I'm just a player who wants to work and who does my job every day, the same as I always did," he said. 
"I don't have to prove Charlie Adam or some people that are speaking about me wrong.
"I know that people know how good I am - most of the people that understand football know that they are wrong."
Liverpool have enjoyed a perfect start to the 2018-19 Premier League season and will try to maintain that on Saturday when they tackle Chelsea at Stamford Bridge, having lost to the Blues in the Carabao Cup in midweek.