Euro 2016
Scouting Report: Loic Remy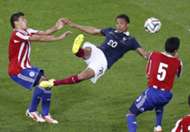 By George Ankers

Four days after signing for Chelsea, Loic Remy entered the pitch in a blue shirt – his Stamford Bridge debut will have to wait, however, as he was being brought on for France against Spain in a match level at 0-0 after an hour's play.

With new club team-mate Diego Costa on the other side, Goal examines Remy's efforts...
 
PERFORMANCE AGAINST SPAIN
In a bright, carefree friendly encounter between two heavyweights of international football,
France
were already looking brighter than
Spain
in the striking department before Remy's arrival. Only five minutes previously, Didier Deschamps's men should have been in front after a decidedly dodgy offside call ruled out a goal from Karim Benzema.
But the deadlock remained in place and, with Costa again struggling to integrate into Vicente del Bosque's side at the other end of the pitch, his new Blues colleague had a chance to make an impression and took it emphatically.
Brought on alongside rather than in place of Benzema, Remy was stationed out on the wings – making good use of both left and right flank as he darted around in support and provided a target for passes out from the midfield.
Though Antoine Griezmann, the man he replaced, had offered glimpses of class, Remy offered some extra pace and bite that quickly unsettled the Spanish defence, though it was his clever movement on the inside channel that stood out for Mathieu Valbuena to assist him for the French goal - that and the striker's excellent, powerful finish.
The 27-year-old continued out wide for the remainder of the match and became a little less involved beyond tracking back as the French looked to hold off Spain to consolidate their win but it was a fine reminder of his talents – and the bargain price for which
Chelsea
have snared him. 
The way in which Remy took his goal on 73 minutes underlined why the Blues were not the first
Champions League
club to knock on his door this summer.
Having drifted inside to make room for the dynamic Valbuena's run down the left, the forward lurked around the edge of the box before pulling off to receive the ball with a clear sight of goal.
There was not a lot of time to execute the finish but Remy needed no more – he took it first time, a crisp and firm strike with his left foot that curled just a little to drop into the near side of David de Gea's net. It was the finish of a true predator. 
WHAT DOES THE FUTURE HOLD?
After being summoned late in the transfer window as a replacement for
AC Milan
-bound Fernando Torres, Remy now faces a battle with Costa for top-dog status as Jose Mourinho's first-choice centre forward.
If you were basing Chelsea selection on performances at international level alone, this game would have ensured the Frenchman starts when
Swansea City
arrive at Stamford Bridge. While Remy was decisive, Costa again failed to get to grips with Del Bosque's formula.
The Brazilian-born forward's parachuting into the World Cup squad was a move that backfired spectacularly in the summer but, even with
La Roja
's roster restocked after that debacle, the former
Atletico Madrid
star looked meek in comparison to the imposing form that has seen him become an instant hit in London.
That form, however, means that Remy will start his Chelsea career as backup – though his effectiveness as a roaming wide player in support of Benzema in this game will not have gone unnoticed. He and Costa could yet play in the same team.