AFC Cup
Sathianathan demands more from his foreign players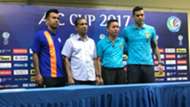 ---
BY         NIK AFIQ        Follow on Twitter
---
Ahead of their AFC Cup clash with Hanoi FC, Felda United head coach, B. Sathianathan has expressed that he wants to see more from his foreign players in the squad.
Sathianathan explained that he can't do many rotations to the heavy schedule so he didn't have the chance to see what the reserve players can do.
However, he insisted that he wants to see more from his foreign players and he wants them to get their act together for the upcoming matches.
"I have to be fair. Zah Rahan is a key player for us this season, but any coach will not be happy when the strikers don't score. I think we can expect more from foreign players."
"I will give them chance and see their progress in the next month. Lucas (Cano) scored three goals so far, so I think he is on his way to be reasonably accepted but the rest need to do soul searching and get their act together," said Sathianathan in the pre-match conference on Monday afternoon.
Having only been in the job for a short period, Sathianathan is still unable to name his best lineup due to injuries in the squad. However, he is hoping that the reserve players can step up when call upon.
"I don't have the time to see my reserve players due to the heavy schedule so most of the time we spend are for traveling. I still rely on the 14-15 players that we have so far, but due to the injuries, I am forced to make changes so hopefully the reserve players can step in and perform better than the others," added Sathianathan.
Commenting on his opponent, Hanoi FC, Sathianathan admitted that he didn't manage to see Hanoi's previous games, but was aware of the opponent's strength.
"I know they have experienced in AFC Cup before, and they are also second in the table in the Vietnam League. I didn't get the chance to see them but I saw them in youtube. Coming from Vietnam, they are very fast players, very quick. If they are second in their league, it means they have quality," explained Sathianathan.
Felda lost 2-1 in their opening AFC Cup match two weeks ago to Tampines Rovers and they are eager to register their first win in the tournament.