Selangor
Razman reveals reasons behind Selangor's outstanding form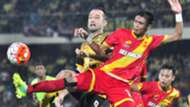 ---
BY        ZULHILMI ZAINAL       Follow on Twitter
---
Selangor have been among the best-performing sides since the start of the second stretch of the season in July. Head coach Maniam Pachaiappan's men have recorded six wins, two draws and one defeat, a marked improvement over their comparatively inconsistent record earlier in the season. They are currently fifth in the Super League and have also qualified for the quarter-finals of the Malaysia Cup with two group matches left.
The Red Giants have achieved this despite having been beset by several problems on and off the pitch. Their financial situation has been precarious since the state government cut its funding at the start of the season, leading to an exodus of many of their stars, and the hectic July fixture list has caused injuries to a number of their key players.
But on the pitch, the side that many had thought at the start of the season would finish it in relegation, have done relatively well to defy all expectations.
Goal managed to speak to Selangor team captain Razman Roslan, and asked him the reason behind his team's dogged current performance, especially when compared to their record earlier this season.
According to him, one of the most obvious reasons for this upswing is their mid-season signings; veteran striker Amri Yahyah, Indonesia winger Andik Vermansah and Spanish forward Rufino Segovia.
Amri had played for Selangor since he was a teenager before leaving for JDT in 2013, while Andik had earlier been taken off the squad list to allow him to recover from a lengthy injury picked up on national team duty. Whereas for Rufino, the Red Giants are his first Malaysian club, after having last played for Hong Kong's Kitchee SC in 2016.
"A big factor (in the improvement) is the arrival of Amri, Andik and Rufino.
"The coach now has more options and that helps with our performance," said the defender in telephone conversation.
But what is not so obvious according to him, is the fact that many of the squad members this season are natives of the state of Selangor themselves.
"It's simple, really. One of the reasons behind our performance is that many of us are Selangorians ourselves. The young lads are from this state, I am a Selangorian, as well as Amri.
"Of course as professional players, we have to perform [at any club] our level best, but when we play for our home state team we'll find that extra boost of motivation," pointed out Razman.
Another factor for their form is the inclusion of young players in the senior squad such as wingers Syahmi Safari and Namathevan Arunasalam, as they have been playing with eagerness all season, said the 32-year old defender.
"Many of our youngsters too have started playing (for the senior team) this season, and these lads have always found more to give on the pitch.
"They're in their first season in professional football, so they are always eager to perform. And simply put, the players we have in the squad this season are those who truly want to play football," he remarked.