Cristiano Ronaldo
Ramos on Ronaldo award snub: Cristiano does what he wants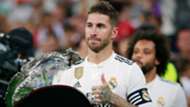 Real Madrid star Sergio Ramos says he was surprised to find out Cristiano Ronaldo would not be showing up for the UEFA awards ceremony on Thursday.
The Portuguese star was not present as individual prizes were handed out for last season because he was overlooked for Player of the Year, which went to former Madrid team-mate Luka Modric.
Ronaldo was not completely overlooked, as last season's Champions League top scorer was named the competition's Forward of the Season in a clean sweep for Madrid, who also saw Keylor Navas acknowledged for his displays in goal with Ramos named the best defender.
Still, Ronaldo is apparently unhappy with second place when it came to the big prize, while his agent, Jorge Mendes, said not giving it to him was a "shameful" call from the 60 coaches and 55 journalists who voted.
Ramos expected his former fellow Madrid star to turn up for the gala, which coincided with the Champions League group stage draw, but suggested it is typical Ronaldo behaviour.
"We found out practically when the microphones were being set up and we were surprised," the centre-back said. "But he does what he wants."
The Spain international was quick to praise his team-mates as he accepted his award in the wake of his side's third consecutive Champions League crown.
"Being the captain is a great privilege and a responsibility to lead a great group with different cultures," he said.
"Apart from being team-mates, it is important to be a family; we have always felt that way and it is the key to success.
"We hope it lasts a while longer, because this is a golden age full of legendary players and I hope we can continue many years of celebrating these type of titles."
Ramos did have his own controversial moment on Friday, however, as he wound up Mohamed Salah by tapping the Liverpool star's shoulder as he walked back from the stage after collecting an award - a reminder of the injury the Egyptian sustained in last season's final.