Premier League
Pogba misses Man United's Southampton clash to attend father's funeral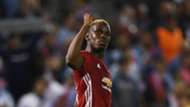 Manchester United manager Jose Mourinho has confirmed Paul Pogba will miss Wednesday's clash against Southampton in order to attend his father's funeral. 
The France international's father, Fassou Antoine Pogba, passed away at the weekend aged 79 after a long battle with ill-health. 
Gabriel Jesus' stunning record
And Mourinho revealed that the midfielder would be in France rather than St. Mary's to pay his respects.
"I don't think Paul has the conditions to play; we will let him be completely free to come back when he thinks he is ready to be back," he explained in Tuesday's press conference.
Mourinho did imply that Anthony Martial would make an appearance, while Daley Blind will be rested ahead of the Europa League final against former club Ajax.
"I'm going to rotate some people. Blind will not play against Southampton but Fellaini will, because he has not played the last three matches," he said.
"These are examples of trying not to accumulate [matches] but people have to play because we don't have other players. I cannot put four or five other kids all together in the fire; I cannot do that to the kids.
"[Martial] didn't play against Celta because the options were different but he is fine and he is one of the guys that it is very important for him to play 90 minutes. Smalling, Jones, Mata – it is very important for them to play 90 minutes."
United know they cannot break into the top four on the strength of their final two Premier League games against Southampton and Crystal Palace, as they trail Liverpool by eight points with only six left up for grabs.