Mauricio Pochettino
Pochettino: Brexit is like a car crash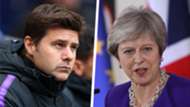 Tottenham manager Mauricio Pochettino has criticised the United Kingdom's decision to leave the European Union, comparing Brexit to a "car crash".
The UK is set to leave the EU in March 2019, but the road to Brexit has been an extremely complicated one with plenty of uncertainty clouding Britain's future independent of Europe.
Like many people living in the UK, Pochettino is concerned about what will happen next and has urged the British government to give the public more information on what the next steps are.
He admits that he is confused by Brexit, claiming that the current political approach is 'like doing nothing when you are going to crash.'
"After two and a half years, I still don't know if it will be good or bad," Pochettino told reporters.
"For me, it's all about applying common sense. If the politicians now realise it will be tough and it will be bad for England, why not go back and explain, 'This is what is going to happen to us'.
"It's like doing nothing when you are going to crash. If I'm going to crash but Jesus [Perez, Spurs assistant manager] is saying 'come on, come on, push, faster'. No! Stop!
"I feel sorry. First of all for the people I love but also for the people who do not have the opportunity to say, 'I need more information.' We still don't know the consequences.
"I feel so sorry because it's a situation that should be dealt with by people who have all the information, who know the reality. If people are for or against Brexit, they manipulate everything."
The Argentine also responded to suggestions that there could be a second Brexit referendum due to the fact that the majority of Britons would now rather remain in the EU, with recent YouGov, ICM and Kantar polls all indicating that the public no longer want to leave.
However, Pochettino is unsure whether a second vote would be good for the country and does not think that the people should be forced to take responsibility for the government's mistakes.
"We don't know if another referendum will be good or bad," the 46-year-old continued. 
"If I need to vote in or out, I still don't know what the best decision for us will be. If you're going to vote, it's because you believe it will be good for you, for the people you love and your friends, country, everyone. But after two and a half years, we still don't know.
"It's so unfair to put the responsibility on the people because there are consequences. We said Brexit, we bought into an idea. But afterwards, who suffers? We don't know.
"If someone told you it would be good for my family, for myself and then the consequences are different, you are the guilty one. That's what I don't like. If I am responsible for picking a starting XI, I need to take the responsibility, I cannot ask the fans who should play.
"And I know the consequences if I don't pick right and get a good result. It's such an important a decision and after two and a half years, 99 per cent of the people of this country still don't know if it's good to be in or out."
Tottenham are back in Premier League action on Saturday as they take on West Ham at the London Stadium.