Goal United
Player Perspective: Players going global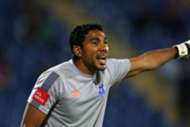 ---
PLAYER PERSPECTIVE:    SHUAIB WALTERS       Follow on Twitter
---
I am devastated and deeply saddened by the news of the sudden death of goalkeeper coach Alexandre Revoredo, who I am proud to say I had the privilege to know personally. My sincere condolences to his family, my thoughts are with each and every one of you.
Last week turned out to be a tough week for our boys as we had to prepare and be fully focused for both the semi-final against Wits in the MTN8 - and the league game against Platinum Stars.
The first half against Platinum stars showed that we were not fully committed to the game and boiled down to us focusing mostly on the upcoming semi-final that we had against Wits. This resulted in a mediocre performance (myself included) against Platinum Stars.
The semi-final game was my chance to redeem myself and to make sure our boys come out victorious.
RIVALDO COETZEE JOINS MAMELODI SUNDOWNS
A concern of mine is that we are not sufficiently equipped mentally to give 100% focus to one game at a time when required. This feels like it could be an area that affects even the majority of professionally mature football players. This type of mental preparation requires that sports psychologist to get involved.
That said, I'd like to move the focus to young players that are being given the opportunity to ply their trade abroad. This will only assist in strengthening our national team going forward. A young player that has caught my eye is Bongani Zungu and his phenomenal transformation since moving to a Portuguese team Vitoria Guimaraes from Mamelodi Sundowns.
It's not only me that he has impressed. Looking at his performances and the value that he has added to the team, along with his growth and maturity, has made him hot property with clubs like Benfica and Olympique Lyon being said to be after his signature.
DONE DEALS: SOUTH AFRICA AND PSL CONFIRMED TRANSFERS THIS WINDOW
A disappointing shock to me was the whole issue with Rivaldo Coetzee. After doing some investigative journalism (hahahaha) and according to my source, he broke his bone while on national duty in September last year.
Where did the break in communication regarding, his medical fitness occur? Was it with Ajax or Bafana?
Could it be that medicals are not being performed when due? This leaves abit of a sore taste and I think that this should be an eye opener going forward. According to my source, Rivaldo is scheduled to have an operation and I wish him a speedy recovery.
Having reached the end of woman's month, I think we should all endeavour to celebrate, protect, uplift and appreciate woman daily, as the saying goes 'Women are the backbone of society"
Till next week!
This column is brought to you by  Lotto Sports Apparel