Mexico
Paul Aguilar still holding out hope for El Tri recall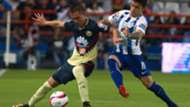 Paul Aguilar hasn't had a call from Mexico manager Juan Carlos Osorio since 2016, but the Club America right back is holding out hope a recall will come.
A regular for Mexico under previous manager Miguel Herrera, Aguilar was injured when Osorio arrived on the scene in the fall of 2015. He was given his first minutes under Osorio in the fourth round of World Cup qualification and then played in the Copa America Centenario with Mexico but hasn't worn the green shirt of El Tri since. Aguilar also was injured throughout the latter half of 2016, but even after getting back on the field and once again taking a place in the Club America starting XI, the defender still hasn't been brought into a Mexico camp by the current coach since the catastrophic defeat to Chile in the 2016 Copa America Centenario a year and a half ago.
Despite that, the 31-year-old still thinks there's a chance he could break into the squad and head to the World Cup for the third consecutive tournament.
"The hope is always there, and the decision of who gets selected is Osorio's responsibility. I'm going to keep working and giving my best," Aguilar told reporters at Club America training Friday. "At the end of the day, soccer is about different tastes and the manager decides who is suitable to be there or not. Meanwhile, I'll keep fighting, the possibility I can help is still there. I'm going to work to be there, and it will be his decision if I go or don't go."
Right back is a particular position of weakness for Mexico. El Tri started Carlos Salcedo and Diego Reyes at right back in this summer's Confederations Cup. Both players usually play center back, as does Aguilar's club teammate Edson Alvarez. Alvarez played right back for Mexico during the Gold Cup and looks to be in Osorio's plans for Russia, though the versatile 20-year-old also could line up in the midfield.
A successful club campaign would boost both players' cases, but even after a busy day in Wednesday's draft, success is far from guaranteed for Las Aguilas. Northern clubs Tigres and Monterrey have been outpacing other Mexican teams in terms of spending for the past several offseasons, and it paid off with a 'Final Regia' between the two teams earlier this month with Tigres winning their sixth championship. For Aguilar, though, economic reasons don't factor into America's push for a 13th crown.
"There's no pressure like there is here. Here it's always the same (goal), the title. Here, whoever comes, whoever is here, this institution always asks you for the title," Aguilar said of America. "It's beyond them making large investments, that's a topic that doesn't concern us."
America opens its Clausura campaign Sunday, Jan. 7, with a visit to Queretaro.