Germany
Ozil hits back at Boateng over Germany criticism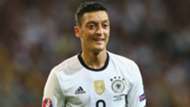 Mesut Ozil has hit back at Jerome Boateng after the defender criticises Germany's attack in their goalless draw with Poland.
Joachim Low's side currently sit at the top of Group C and face Northern Ireland in their final group game.
But after their stalemate with Poland, Boateng was less than happy.
"We did not win any one-on-one duels in attack," he said.
"There was not a lot of movement — it just wasn't enough.
"We have to take shots. It's all good until we reach the final third, but we can't get past the opponents, are not dangerous. We need to improve that, otherwise we won't get far."
But Ozil bristled at Boateng's assessment and gave a sarcastic reply to the defender's analysis.
"That's his opinion," said the Arsenal midfielder.
"He certainly knows how to play attacking football."