World Cup
Nigeria foe, Iceland face Indonesia in January friendly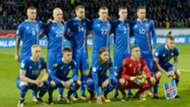 Iceland will face Indonesia in an international friendly in Gelora Bung Karno Stadium on January14 2018.
The Europeans who will become the smallest country ever to take part in the Fifa World Cup have been zoned in Group D alongside Argentina, Croatia and Nigeria.
And in their bid to ensure a successful debut in Russia, they will face the Asian nation in the friendly organised by PSSI and Mediapro Asia.
Iceland will first challenge Indonesia Selection on 11 January and three days later, they will play Indonesia's senior national team at the same venue.
"2018 is a pretty aggressive year for PSSI, there are plenty of Asian and Asean level events that we will carry out, we will start on January 11 and 14 against Iceland," said deputy general secretary of PSSI Business Development and Markeing, Marsal Masita.
"Outside of the 2x90 minutes we will play with Iceland, there is an essence where we will invite Icelanders to  share  football, one of the sessions we will make is a workshop with coaches to the development of club management with the league."
Although the match is not in Fifa calendar, the Football Association of Indonesia said they will propose to AFC and Fifa for the game to be calculated in Fifa rankings.

After their opener against Argentina, Iceland face Nigeria on June 22 at Volgograd Arena.