Chelsea
Missing me, Thiago? David Luiz having the last laugh at Chelsea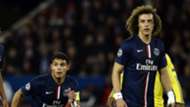 ---
COMMENT
---
As Thiago Silva trudged off the field at Camp Nou on Wednesday, having shamefully failed to have made even one tackle during Paris Saint-Germain's shocking collapse in Catalunya, it was difficult not to wonder whether the spineless visitors might have fared better with David Luiz at the heart of their defence.
That is a remarkable state of affairs, given that Thiago Silva was once lauded by the likes of Paolo Maldini and Franco Baresi, while Luiz was widely ridiculed, for both his hair and his positioning, with Gary Neville famously claiming that he looked like he was being controlled "by a 10-year-old on a Playstation".
However, it now seems as if PSG sold the wrong member of Brazil's 2014 World Cup squad. Whereas Thiago Silva is presently being berated for his mental frailty, Luiz is considered a "warrior" by Chelsea boss Antonio Conte for playing through the pain of a nagging knee problem.
Thiago Silva the worst captain ever
Indeed, Luiz is now playing better than ever before, having emerged from Thiago Silva's shadow at both club and international level to become a surprise leader back at Chelsea. In fact, right now, he is arguably the best defender in England.
At the very least, he is moving in that direction, while his long-time central defensive partner Thiago Silva is seemingly going backwards, a player in terminal decline who didn't display an ounce of leadership or tactical nous as he appeared to get caught in the headlights of an onrushing car at Camp Nou.
In fairness, Luiz may also have struggled up against Luis Suarez, Lionel Messi and Neymar - he certainly has in the past for PSG - but the 29-year-old would have offered far more resistance than Silva, whose role as captain is looking increasingly ceremonial.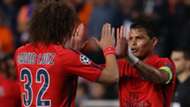 Acquiring the former Selecao skipper from AC Milan in 2012 was rightly viewed as a major coup by PSG, as he proved almost as influential as Zlatan, who also arrived from San Siro that summer, in the capital club's ascent to the summit of French football.
He is a popular figure with the club's hierarchy for that reason. Luiz, though, was a less successful signing and always had to play second fiddle to his compatriot before it eventually became clear that another Brazilian, Marquinhos, was actually an even better option at centre-half.
Luiz and Silva's destinies have been closely tied together, though. They have both won and suffered together. However, it was Luiz who bore the brunt of the criticism after Brazil were humiliated by Germany in the semi-finals of the 2014 World Cup, with Silva having missed the game after picking up a booking for time-wasting in the last-eight win over Colombia.
The Brazilian who fed his lover to dogs
It has ever been thus for Luiz. He has long been compared unfavourably to Luiz, considered little more than a sidekick, a real-life 'Sideshow Bob'. Yet while he has been ridiculed for much of his career, he has always taken it admirably, been a good sport about it and arguably even played up to his persona.
However, what happened on that fateful night in Belo Horizonte changed him. He became more serious and increasingly avoided the glare of the football media. He has worked hard to stop making the mistakes that had tarnished his reputation. 
Luiz remains in Silva's shadow at international level, as he has been incredibly left out of Tite's latest Brazil squad, with Silva again included alongside the likes of Shandong Luneng's Gil.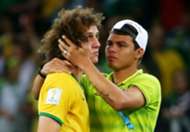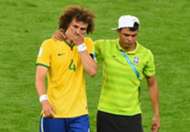 He is going about everything in the right way to earn another call up for his country as he is now centre stage at Stamford Bridge, where he is almost certain to end up winning at least one major trophy this season. He is also at a club that loves him. While pundits mocked Chelsea's decision to resign Luiz last summer for a fee of £34 million, dismissing the move as "desperate" and destined to fail, Chelsea fans celebrated his return with glee.  
That joy has now turned to pride, with Luiz having established himself as one of the most influential players within Antonio Conte's champions-elect, one whose distrubtion from the back adds an extra dimension to the Blues' game. Indeed, the Italian coach deserves enormous credit for the way in which he has got the best out of the Brazilian.
Just as he did with Leonardo Bonucci at former club Juventus in 2011, Conte realised that Luiz would benefit from playing in a back three, rather than a flat four, while at the same time assigning the former Benfica man (and every other player) a series of personal projects to improve the weaknesses in his game. 
Mou won't play reserves at Chelsea
PSG sold Luiz to promote the promising academy product Presnel Kimpembe to the first team. However, just as the decision to drop Kimpembe for the club's Champions League last-16 second leg against Barcelona in favour of recalling Silva was made to look ridiculous, selling Luiz rather than his compatriot also appears foolish.
Indeed, while Thiago Silva's best days appear to be behind him, Luiz's future looks brighter than ever. The joker in the deck has become the leader of the pack.