Mexico
Mexican federation set for CAS hearing regarding controversial chant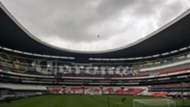 The Mexican football association will take its case against FIFA before the Court of Arbitration for Sport on Thursday, arguing it should not be punished for a chant FIFA has ruled is homophobic.
Despite a campaign from the Federacion Mexicana de Futbol asking fans to stop shouting the word, the chant is still heard at Mexico matches home and away, generally when the opposing goalkeeper takes a goal kick. That has earned the FMF six fines, most recently in December, when the federation was docked nearly $20,000 — bringing its total fines above $100,000.
Jorge Villafana added to U.S. roster for January camp
While the FMF would like to put a stop to the fines with a victory in front of the CAS this week, the more pressing concern is a stadium ban like the one handed to Honduras in December. Los Catrachos will not be able to play March's World Cup qualification match against Costa Rica in San Pedro Sula's Estadio Olímpico Metropolitano after crowd incidents in November qualifier against Panama.
The Mexican federation is expected to argue that the word in question is being used in a different context, and while human rights and LGBT groups have come out against the chant, not everyone views it as discriminatory. The word has a different cultural connotation in Mexico, the FMF will argue, than when it is translated back into English. In news conferences, some Mexican players have said that while they wish fans would stop using the word, they also don't believe there is intent to offend.
"I don't think the fans mean it to be offensive, but it stops being funny when there are sanctions that might affect us or have us sent away from our stadium," Mexico midfielder Andres Guardado said in June. "The fans themselves wouldn't like it if they weren't able to go to the stadium to see their national team."
FMF officials like Decio de Maria, the federation president, and Guillermo Cantu, the general secretary, have not traveled to Switzerland, leaving federation lawyers to make the FMF's case.