Mexico
Mexico can manage World Cup Group F, but road to quarterfinals is brutal
The moment Diego Maradona held up the strip of paper reading "Mexico", the furious scribbling began. 
Noted notebook aficionado and Mexico manager Juan Carlos Osorio was taking notes about being drawn into Group F. So too was his future adversary, Joachim Low. The Germany manager started writing things down the moment Germany, the defending champion and one of the seeded teams, was put into the group despite the fact the European giant had no opposition. 
There is plenty to take note of for El Tri.
The group, with Sweden and South Korea in addition to Germany and Mexico, looks manageable. Mexico's match against Sweden looks to be the fixture everything could hinge on with Germany likely to win the group. After victory in Poland and a spirited draw against Belgium in November friendly matches, a win over mid-level European opposition doesn't look so tough for El Tri. South Korea looked vulnerable in qualification, losing away to Qatar, China and Iran in the final round.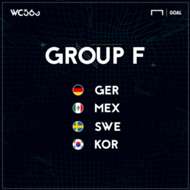 The Round of 16 looks much different. The 'cruce', as it's called in Spanish, puts the runner-up of Group F on a collision course with the winner of Group E. The Pot 1 team in that group? A revamped Brazil looking for revenge after falling embarrassingly short on home soil four years ago.
"For me, the favorites today to win the World Cup are Brazil, Germany, Spain, and maybe England could be there as they've done things well lately, but I'd choose those first three first. So if you're up against any of those, obviously you have to stay calm," Mexico legend and current Fox Deportes analyst Alberto Garcia Aspe told Goal earlier this week. "I think for Mexico, sometimes it's better to be in a more complicated group and then have an easier 'cruce' to be able to get to the next stage."
That didn't happen, but at least the path forward now is clear, as drawn out by the three-time World Cup veteran. Stay calm and do everything possible to defeat Germany and win the group. If that doesn't happen, get out of the group and give the winner of Group E - likely but by no means guaranteed to be Brazil - your best shot.
Osorio now has a full seven months to draw up his game plan against Germany. Whether or not that's a positive depends entirely on your view of the manager's game-planning abilities. He drew up a savvy plan for the first game of the 2016 Copa America Centenario as Mexico throttled Uruguay with a three-man back line and an intricate setup in the midfield. Later that tournament, of course, Mexico was handed its own thrashing by Chile - a 7-0 defeat that many supporters still haven't forgiven Osorio for.
The formula repeated this summer when Mexico fought back for a result in its first group game at the Confederations Cup. The contest against Portugal was El Tri's most difficult of the group stage, and after finding their sea legs, they were able to match the European champion. Once they got out of the group stage, though, it once again was too much as an alternate Germany side put two goals past Mexico in the first 10 minutes on the way to an easy 4-1 win.
No matter what happens at this tournament, it's likely to be Osorio's last with Mexico. He either breaks the curse of six straight Round of 16 eliminations and moves on to a larger job on the international stage or fails and is fired from his post. As it has since it become clear Osorio will lead Mexico into Russia, his legacy as El Tri boss will come down to the fourth match of the World Cup. The draw didn't change that, but it made Osorio's chances of success much slimmer. 
Those chances, though, are still there. The chance remains that with half a year of planning, of observation, of jotting down messages in the notebook, that Mexico does break through and that the current incarnation of El Tri become the first to fly Mexico's flag high into the quarterfinals on foreign soil.