Premier League
Manchester City have a mentality problem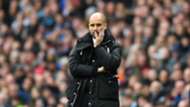 ---
COMMENT
---
There is a problem with the Manchester City squad, one that cannot simply be fixed by signing new players.
Conte does not bear Aguero grudge
It is almost an expectation that the fundamental problems which have held back City's progress under Pep Guardiola this season - fragility in goal and at the back, a failure to convert chances - can be and will be remedied in the transfer market.
Despite Txiki Begiristain's generally poor acquisitions over the years, his dealings since the summer of 2015 have been more encouraging. The arrivals of Kevin De Bruyne, Raheem Sterling, Leroy Sane and Gabriel Jesus in particular have persuaded the more optimistic City fans that the club will be able to secure significant upgrades on many of their current players.
That is why the Guardiola era is finally expected to kick off next season.
But there is another issue which is altogether harder to fix, and one which will have to be corrected for City to really get where they want to be.
Guardiola has identified a mentality issue within his squad.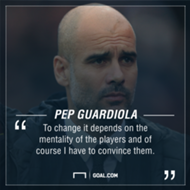 City's away record in the Premier League is second only to Chelsea's, but when it comes to the biggest games they have been poor.
Since beating Manchester United back in September, thanks to an especially convincing first-half performance, City have not won at any of their rivals for the European places, losing at Spurs, Liverpool and Everton and drawing at Arsenal on Sunday despite taking the lead twice.
City did not win any of their away games in the Champions League, either, and it was the defeat at Monaco last month which most alarmed Guardiola.
PL table: Arsenal fail in big games
The Catalan took responsibility for his side's European exit, but said his players "forgot to do what we normally do". After the Arsenal game he revisited the theme: "After the first half when we scored a goal we forgot a little bit to play."
Guardiola has spent his time in England stressing the importance of attacking football to his players. As well as it being his core principle, he also believes his squad is built to attack, certainly not to defend. He told his players before Monaco that the best way to protect their aggregate lead was to attack. They sat back.
Sources close to the Catalan and his coaching staff believe there is a lack of belief among the squad.
"I think it's one of the things we most have to improve," he said Tuesday. "We react when we are in the bad moments. When everything is lost we [show] the best of our game. But to be proactive as much as we possibly can, to have a leading role in the game, we have to change."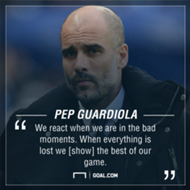 Speaking before the Arsenal game, Guardiola was asked about the the England national team. He said he has no doubts about the quality of the players, either now or the 'golden generation' of Lampard, Gerrard et al, but that they need to make the step up, to believe that they can win the biggest games. "It's a little bit like Manchester City, but you need time to do that, it's not one day."
Given the problem applies to even the best talents at Guardiola's disposal, and not just those players branded "deadwood" by some fans, it is a major concern.
"It's part of my job to help to put it in the heart and the head of the players [that we have] to attack," Guardiola added on Tuesday. "We are good when we attack, not when we defend, and sometimes we are thinking about the result and not what we have to do.
"Sometimes away to the big clubs, we've maybe not made the best performance. In Monchengladbach, for example, and Celtic in Europe, at Anfield, Arsenal first half, we've not given our best performance. Now I'd like to see what we try to do from the beginning, to be brave, to show courage. That's what I'd like to see."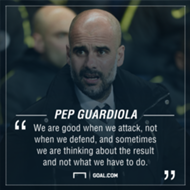 But how? Guardiola did not have an answer, or at least one he was willing to reveal in public.
"We need time for that," he said, returning to the idea that City do not have the experience in major tournaments that their rivals around Europe can call upon. "For the club, with the history of the club, in the past you know it was not having a leading role in the competitions. To change that it depends on the mentality of the players and of course I have to convince them.
"In some of the games we were able to do that because we are able to make a good performance at home and away too even against good teams, but we are not solid for all the time."
Given six of City's seven substitutes at Arsenal on Sunday could leave (all bar Aleksandar Kolarov), it should not be too hard to sign players better than Guardiola's current options. But players with the character necessary to change a whole club's outlook are harder to come by.
The Catalan said City improved at Arsenal when Yaya Toure came on, because he has "a huge personality to play, it doesn't matter where." But Toure could yet leave. And with Joe Hart gone and Vincent Kompany going, theirs is obviously a different type of leadership.
Guardiola, it appears, does not believe the latter two will be missed - he is doing things his own way. But to get to where he wants to be, and where City's owners want the club to be, he will need to fully convince his players that he is right, to instill a mentality that the club, for all their modern day success, have never had.
The worry is that he arguably could not instill it even at Bayern Munich. The Germans won three league titles and two DFB Pokals in Guardiola's three seasons there, but could falter away from home in Europe. They would have to rely on rousing home performances - like City have managed this season - to get them to three consecutive Champions League semi-finals. There were defeats or draws at Juventus, Arsenal, Shakthar Donetsk, Porto and Atletico Madrid, despite playing well in each game. 
Guardiola did, of course, foster a mentality among his Barcelona squad which led them to unprecedented success and even helped Spain win a World Cup and defend their European Championship crown. 
City would be delighted with Bayern's three consecutive Champions League semis, let alone Barcelona's success, but to get anywhere near that they will need to use the transfer market more intelligently than they have done in years. Then the hard work starts.