Transfers
Man City were on brink of signing Alexis, claims Bravo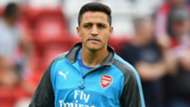 Claudio Bravo has outlined just how close Manchester City were to signing Alexis Sanchez from Arsenal this summer.
The goalkeeper claims that the long-running deal fell through because the Gunners failed to sign a replacement – and that the former Barcelona star was not happy about the outcome.
He spent the transfer deadline with the 28-year-old while on international duty and has spoken about the frustration Alexis felt as the deal fell through.
"The transfer didn't happen because a player didn't go to Arsenal and everything collapsed," he revealed after helping City to a 5-0 win over Liverpool.
"We were talking in Chile. He went from happiness to bitterness in a few hours, although it's all in the past now. We would have loved to have him here, but the market gives you these time limits and the rush is not good. 
"This time it was not possible, but hopefully we have him here in the future."
Alexis is out of contract at the end of the season and, therefore, available to leave on a free transfer. He was left out of the starting XI for the Gunners' Premier League fixture at home against Bournemouth on Saturday. 
Meanwhile, Bravo also started the afternoon on the bench but was unexpectedly called into action when Ederson was carried off after being kicked in the head by Sadio Mane, whose red card changed the course of the fixture.
The keeper has indicated that he felt referee Jon Moss' decision was the correct one.
"These things are avoidable, you can easily avoid putting your foot in somebody's face so you don't do them damage. At first I thought that he had hit him in the hip, but then I saw clearly that he got him with the face," he said before explaining how he coped with the sudden call.
"You go from being on the bench watching the game and within seconds you are out there playing. Us goalkeepers know this can happen but you never expect it. 
"I'm calm, all of us here are completely ready and we have a competitive mentality. We are all very happy for the win. I wouldn't have wanted to play for a reason like this, an injury to a team-mate, but you always have to be prepared."