Transfers
Loftus-Cheek focused on Sarri-ball amid Chelsea exit rumours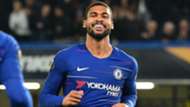 Ruben Loftus-Cheek says he is fully focused on earning his place in the Chelsea squad under Maurizio Sarri as speculation around his future at the club continues to circulate.
The 22-year-old has yet to start a Premier League match under the Italian, but now has five goals in his last six games for the club that he joined at just eight years old.
His impact off the bench and in the Europe League was praised by his boss after his goal helped seal a 2-0 win over the Fulham at the weekend, though the academy graduate has fierce competition for a starting place.
With the transfer window just a month away, Loftus-Cheek says he is blocking out the rumours linking him with a January move away from Stamford Bridge, instead focusing on how he can improve to become a regular starter under Sarri.
"I see what's in the media and I try not to look at it at all," he said. "I'm here right now at Chelsea and I want to focus on helping the team.
"When I'm on the pitch or in and around the team I can't have any negative thoughts because it will affect the squad. So my head right now is focused on playing for Chelsea and learning Sarri's way.
"Individually and as a team that's all I can do at the moment, I can only think about what's happening right now. There's a difficult period coming up and we all have to be fully focused.
"There's load of games so there'll be plenty of rotation, we all need to be ready physically and mentally for that. I talk with the manager and it's clear what he wants from me.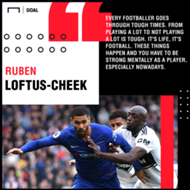 "We've talked a lot – you've heard him say to the press that I need to learn tactically. That's what I'm trying to improve on day in, day out on the training pitch and the more I do that the more opportunities I'll get to play.
"That's the main focus right now. I have a good family and friends who help me when times are tough which is always good for me. I'm also strong individually to know what I want in the future.
"I will always believe I'll get to where I want to be if I keep my head down. I try not to think too much about the future, especially not at a time like where you're not playing so much, but that's life. You have to deal with it.
"Every footballer goes through tough times. From playing a lot to not playing a lot is tough. It's life, it's football. These things happen and you have to be strong mentally as a player, especially nowadays.
"I try to take it in my stride. It's all a learning curve so I'm just really focused and aware of what I need to learn."
Loftus-Cheek made his 50th Premier League appearance in the win against Fulham, those being split between his time with the Blues and on loan at Crystal Palace.
Sarri has asked the Englishman to improve his tactical awareness as he overhauls the club's style of play, and while Loftus-Cheek is happy with his goal-scoring impact of late, he has been given specific instruction on how to increase his game time.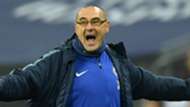 "I'm trying to improve my all round game," he said. "Me scoring goals is looking good at the moment but I'll look to improve on that. I always try to see myself as a goal-scoring midfielder. Hopefully I can build on this run.
"My mindset when I get the opportunity to play, whether that's in the Europa League or in the Premier League, is that I have to do my best and try to make stuff happen, but also do what the manager asks of me defensively. So that's my mindset and I want to carry on like that."
With more goals than Olivier Giroud and only two fewer than £70 million striker Alvaro Morata, some have called for Loftus-Cheek to play some games up front.
Loftus-Cheek was trialled as a striker in Antonio Conte's first pre-season in charge over two years ago. However, despite being open to playing in any position, Loftus-Cheek clearly sees himself as a midfielder.
"No [I never thought about becoming a striker], I played up front for Antonio Conte in pre-season when we played two up front but that was only a few games in pre-season," He said.. "That's the only time I have ever played up front.
"I have played wide left and wide right so it is not something I would be scared of playing. I wouldn't turn it down, I would play anywhere but I don't see myself as a striker, no."
Wolves and Manchester City are up next for Chelsea, who play three Premier League games in a row as clubs across English football prepare for a hectic winter schedule.