Premier League
Lloris blunder means Courtois clinches Golden Glove award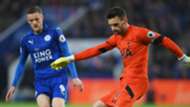 Chelsea goalkeeper Thibaut Courtois has clinched the Premier League Golden Glove award after Hugo Lloris' error ruined his clean sheet on Thursday.
Lloris charged outside of his box to meet a second-half through ball for Jaime Vardy, but was unable to clear and eventually Ben Chilwell scored with the Tottenham goalkeeper scrambling. 
The goal meant little to the result, as Spurs crushed defending champions Leicester City 6-1, but it did secure Courtois the award which goes to the goalkeeper with the most Premier League clean sheets on the season.
The Belgium international has 16 clean sheets in 2016-17, while Lloris is on 15 with just one round of fixtures remaining.
Lloris could still co-win the award on the season's final day if he keeps a clean sheet against Hull City and Courtois either concedes or doesn't play against Sunderland. 
The Golden Glove used to have a tie-breaker system which resulted in only one winner, but that was amended in 2013-14 to stipulate that there could be multiple winners of the award.