Barcelona
Lenglet: Hopefully my first Barcelona goal will come in the Clasico!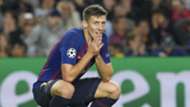 Barcelona defender Clement Lenglet is hoping to open his account for the club in the Clasico against Real Madrid after missing out on his opportunities against Inter.
With Lionel Messi watching from the stands with a broken arm, Lenglet had two golden chances to help the fill the void on scoresheet against the Serie A side.
Lenglet delivered a strong header in the first half that was saved by Inter's Samir Handanovic and later had a clear-cut chance in the second half, when the ball fell to him in alone in front of goal, but he was again unable to beat the goalkeeper.
Lenglet took it in stride, and simply hoped he will be able to deliver his first goal for the club in Sunday's clash at Camp Nou with Barca's rivals.
"Today could not be," he told reporters. "Hopefully Sunday."
Despite those misses, Barcelona emerged with a 2-0 victory over Inter to move them clear at the top of Group A with a perfect nine points from three matches.
Goals from Rafinha and Luis Suarez proved the difference on the evening, as the club made a positive start to their three weeks without Messi.
Lenglet was pleased with the victory, praising his team-mates for their efforts and noting that their goal over the next few weeks to make it so no one notices Messi's absence.
"We played a good game all together and when we play like that, it is much harder for the opponent to hurt us," he said. "It has been a very good match both in defense and in attack.
"We prefer to play with Messi than without him, but in these three weeks we have to try to make his absence is felt as little as possible."
The defender also warned that any excitement over the victory should be muted as the Clasico will present a much different challenge.
"We are very happy for today's game, but Sunday's game will be totally different from this one."