Transfers
LeBron James could help Liverpool land Serie A star Barella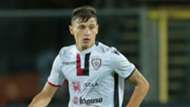 Liverpool could use their links to LeBron James and put themselves in pole position to land Cagliari midfielder Nicolo Barella.
The Reds have been linked with the highly-rated 21-year-old after seeing him emerge as an exciting young talent in Serie A.
Barella is already an established senior star and Italy Under-21 international, with the 2017-18 campaign seeing him scale new heights as he made 35 appearances across all competitions and netted six goals.
Those efforts have brought him to the attention of leading clubs across Europe, with Tottenham reported to be other suitors in England while AC Milan would happily raid a domestic rival for a player of such promise.
Barella has opened the door to a Premier League move and suggested that Anfield could be his preferred destination, with a desire on his part to meet NBA icon James.
He told Gazzetta dello Sport: "Cagliari received offers and turned them down. I am happy to have remained with the club I support.
"If I had to choose between Serie A and the Premier League, I'd go for England, because I like the way they approach the game. Plus everyone there is just as irritable and prone to fouls as me!
"My dream is to get a nice house with a garden and a pool. And to meet LeBron James."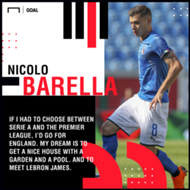 James, who is now on the books at the LA Lakers, owns a stake in Liverpool.
He has followed the club for several years and was among those in attendance as the Reds saw off Tottenham 2-1 at Wembley Stadium on Saturday.
Making a move to Merseyside could allow Barella to fulfil his dream of rubbing shoulders with James, as the 33-year-old basketball star is a regular visitor to Anfield.
For now, though, the combative midfielder must continue to focus on the present and ensure that his efforts for Cagliari keep him in the show window heading into January and next summer.