Transfers
Keane: I'd walk to China for Costa's £400,000 a week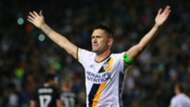 Former Republic of Ireland striker Robbie Keane claims that he would "walk to China" if he was offered £400,000 a week.
The 36-year-old is currently unattached after leaving LA Galaxy, and admitted that he would not have to think twice about moving to the Chinese Super League if he was offered wages comparable to those rumoured to be on the table for Diego Costa.
Conte not worried about Costa agent
Chelsea striker Costa was linked with a move to Tianjin Quanjian, but Keane believes the Spain international should not turn his back on the Premier League while he his in his prime.
"If they gave me the money Diego Costa was offered, I'd walk there now!" Keane told talkSPORT.
"The Chinese league is nowhere close to the level of the Premier League, and Costa is scoring goals on a regular basis in the Premier League.
"If he can do that here there's no question he would score a bag full of goals over there. He just has to ask himself, 'do I really want to leave this year?'
"He's got a great chance of winning another league title with Chelsea, and every player wants to win, so does that mean he'll just wait until the end of the year?"
However, Keane admitted that Costa would not be human if he did not consider the "ludicrous" amount of money on offer to play in China.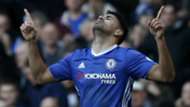 The Chelsea striker would still be just 29-years-old if he spent a season in the CSL and returned next year. Keane believes it is definitely an option for Costa.
"Listen, it's very hard for the player if you're getting offered £400,000 a week," the former Spurs striker continued. 
"It's absolutely ludicrous, so what does he do? You have to weigh it all up, you have to think about your family and see what the best is for them too.
"The money he's getting offered is just crazy, he's probably thinking he could go there for one year, make a lot of money, and come back to the Premier League or go somewhere else."