NASL
Judge denies NASL's request for D2 status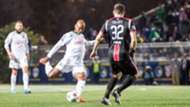 A district court judge has denied the North American Soccer League's request for a preliminary injunction to retain its Division 2 status.
Judge Margo K. Brodie of the U.S. District Court for the Eastern District of New York issued her decision on Saturday, dealing a blow to a league that has been on the brink of dissolving for more than a year.
"We are very disappointed with the court's decision in denying our motion for a preliminary injunction," NASL interim commissioner Rishi Sehgal said in a statement. "We remain steadfast in our pursuit of antitrust claims against the U.S. Soccer Federation and are confident that justice will ultimately be served.
"In light of the extreme harm this decision poses to the NASL and our teams, players, coaches and fans, we will immediately begin reviewing all of our legal options including the process for appealing today's ruling."
U.S. Soccer also released a statement, saying that Brodie's ruling confirmed it made the correct decision to strip Division 2 sanctioning from the NASL.
U.S. Soccer's Statement re: Court's Decision on NASL Preliminary Injunction: pic.twitter.com/tc5LoFLDqw

— U.S. Soccer (@ussoccer) November 4, 2017
If NASL does not receive Division 2 sanctioning from the U.S. Soccer Federation, it could choose to operate as a Division 3 league in 2018, or it could dissolve and its eight teams could either fold or attempt to join the United Soccer League, which has also applied for Division 2 status.