World Cup Trophy Tour 2018
Join the World Cup Trophy Tour in Germany in stunning 360!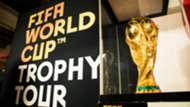 This week the World Cup Trophy Tour by Coca-Cola arrived in Cologne to temporarily reunite the cup to its current holders.
Germany returned from Brazil with the trophy in 2014 after seeing off the hosts and Argentina to claim a historic fourth world crown.
The trophy Tour jetted in to Cologne on Thursday and was met by previous winners Pierre Littbarski and Luca Toni before it joined fans at the German Sports and Olympic Museum.
It was the hottest ticket in town – but not everyone be there. So, what better way to experience it for yourself at home than hopping right into the middle of the action via the prism of 360 video?
"We are excited to offer the German fans this exclusive experience," Barbara Korner, general director of Coca-Cola Germany said. "It's a very special opportunity to see the FIFA World Cup Original Trophy live, as it's normally kept at the FIFA World Football Museum in Zurich."
The Trophy Tour continued on to Norway before stopping in Faroe Islands and Iceland ahead of the South American leg of its world tour.
For more information on the Trophy Tour head to the official FIFA World Cup Trophy Tour Instagram or Facebook page!