Indian Super League
Indian Super League: Mohun Bagan to pick up ITB document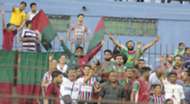 On the final day to pick the Invitation to Bid (ITB) document in Mumbai, I-League giants Mohun Bagan are the latest club to express an interest in being part of the Indian Super League (ISL).
The Football Sports Development Limited (FSDL), organisers of the Indian Super League (ISL), had earlier announced that teams keen on being part of the league can pick up the tender document from May 12th onward. The bidding companies need to meet the criterion mentioned in the ITB document and submit by 25th May.
"It being clarified that in case of the city of Kolkata being awarded to the winning bidder, the respective team shall hold its home games outside Kolkata for the next two consecutive Indian Super League Seasons (2017/2018 and 2018/2019)," the release by FSDL stated.
"We will collect the bid document on Wednesday," informed a top Bagan official.
Effulgent Nita Ambani kindling Indian Super League revolution
The Mariners would only have a day to submit the bid document if they are to make the cut to be a part of the ISL, whose winner would be afforded an opportunity to ply their trade in the AFC Cup, as Goal reported earlier.
Interestingly, East Bengal and Mohun Bagan met the Chief of Minister of West Bengal, Mamata Banerjee on Tuesday evening to express their grievance as they do not wish to pay the franchisee fee, which is an essential for every participating team in the ISL.
"The Chief Minister told the clubs that they must not bow down to any pressure," said Utpal Ganguly, General Secretary of Indian Football Association (IFA).