Sergio Ramos
I can emulate unstoppable Ramos, says Madrid target Ceballos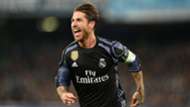 Real Betis midfielder Dani Ceballos holds Sergio Ramos up as his role model in football and hopes to reach the same stature as the Real Madrid centre-back.
The players who could break Pogba's transfer record
Ramos played an integral role in Madrid's win over Napoli in the second leg of their Champions League last-16 tie, scoring early in the second half after Dries Mertens had given the Italians the lead.
It was another example of how decisive the World Cup and Champions League-winner can be, having developed into one of the best defenders in the world since joining the capital club from Sevilla.
And 20-year-old Ceballos, who remains at Sevilla's local rivals after passing up the chance to join Madrid, hopes Ramos' achievements offer a glimpse into what lies ahead for him.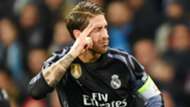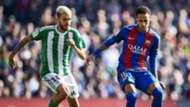 "Pepe Reina said that Ramos is unstoppable," Ceballos, who will come up against Zinedine Zidane's side at the Santiago Bernabeu on Sunday, told Marca: "But if you are focused on not letting him get his run-up in at the right time, you could have a chance.
"If you let him measure his distances and jump easily, he has the ability to suddenly appear in the key moments.
"Sergio Ramos could be a mirror for me and my career, although he started at Sevilla and I am at Betis.
"He made the move to Madrid when he was only 19 and today he is the captain. Let's hope someday I can achieve the things he has.
"It is true that Real Madrid were interested in me, and they tried to sign me in the past," Ceballos shared. "But my goal was to be at Betis and to grow at Betis.
"I think I chose well and if I am going to play for a big team one day, I am going to go to play, not to be on the bench.
"When a player bursts into a club like Betis, the interest of other clubs should serve as extra motivation to continue working and finish the season the best way possible.
"I am happy now where I am and I hope to achieve great things one day."
Zidane committed to BBC front three
Ceballos recognises the strength of the capital club going into Sunday's encounter, but he believes his side can put up a good fight.
"Betis are going to face a team that is in the La Liga title race and cannot afford to fail anymore. We hope to be competitive," he said.
"The Bernabeu is impressive. Playing there is the dream of any child and facing their world stars will be a challenge.
"Madrid are playing at a high level. Their recent poor results have only been down to a lack of concentration."