Chelsea
How Hazard could become Chelsea's 'false 9' under Sarri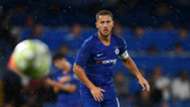 Eden Hazard clearly had his heart set on a transfer to Real Madrid this summer. He spoke to the press after Belgium claimed third place at the World Cup against England in St Petersburg and reminded everyone that it was no secret where he wanted to play his football. At 27 – and at the top of his game – there is no question that Hazard deserves to be playing at the highest level.
Instead, Chelsea are in the Europa League and endured a tough summer. They did not replace their head coach Antonio Conte with compatriot Maurizio Sarri until well after pre-season training had started.
They missed out on big transfer targets such as Daniele Rugani and Aleksandr Golovin. As far as replacements for the outbound Thibaut Courtois go, the signing of Rob Green felt more like a bad joke than a decent goalkeeping option. A world record fee for Athletic Bilbao's Kepa looks desperate. 
But there was relief all round when - unlike his Belgian stablemate Courtois – Hazard showed up for the start of the new season with a smile on his face. The latest indications are that Hazard is content to see the season out at Chelsea but will presumably be on the move thereafter.
And how Sarri needs him. That much was proven on Sunday at the Community Shield when Chelsea appeared a long way off the standard set by the reigning Premier League champions Manchester City.
Sarri had little choice but to persist with last year's landmark striking signing Alvaro Morata but he was again out of his depth. A year on from his arrival from Real Madrid and the Spain international is no closer to becoming a key player for Chelsea.
World Cup winner Olivier Giroud – along with Hazard – were still absent and the paucity of Chelsea's striking options were revealed.
But there were some positives to be taken from Wembley. Callum Hudson-Odoi has emerged as a genuine contender for a starting slot in Sarri's preferred XI following a stellar pre-season.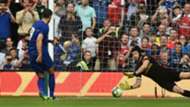 The 17-year-old could well slot into the left-side of the Chelsea attack. In that regard Sarri might be tempted to take Morata out of the firing line and use the Belgium captain up front instead.
Hazard is by no means a natural centre forward and by using him centrally Sarri risks losing his strength in one on ones as well as his ability to slow the game down just enough to find a killer pass. But he could provide more productivity up front than Morata or Giroud – bigger, slower men -  if named there by the new boss.
Sarri has form for using smaller, more technical players who can dribble and shoot in that position. Dries Mertens – another Belgian – became one of Europe's best strikers during Sarri's Napoli days even though he was not a natural No.9 to begin with.
He does not have the physique of a classic target man but Sarri's style of play suited him perfectly. Chelsea do indeed have the kind of technical talent to play in and around Hazard.
Pedro and Willian are more than capable of quick and intricate football like Jose Callejon and Lorenzo Insigne at Napoli. At the centre of it all, Hazard would have the option of dropping deep to create and get Chelsea going or else be on hand to stretch the play with clever runs in behind.
Sarri rarely played with a classic front man at Napoli and it was left to the little guys up top to run the show.
Following the sale of Gonzalo Higuain and the long-term injury suffered by his replacement Arkadiusz Milik, Sarri had little choice but to shuffle his attack around and play Mertens centrally instead of on the wings. Forty-six goals in two Serie A seasons followed.
It was arguably the catalyst behind Napoli becoming one of the most exciting and potent teams in Europe. With Chelsea stuck in second gear and in need of pace and inspiration it might be time to repeat the trick with Hazard.