Ghana
Grant: Ghana ready for Afcon opener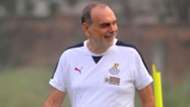 Coach Avram Grant says he hopes to guide Ghana to win the ultimate at the 2017 Africa Cup of Nations, which commences this weekend in Gabon.
The Black Stars were runners-up in the previous edition, after losing the final 9-8 on penalties to Cote d'Ivoire.
"It's not a secret. We came here to do something good. It's okay to say we want to win [the Afcon title] but it would be unprofessional to think we will just get it," Grant told TV3.
"Of course, I hope and I believe it will happen. First we need to qualify and decide what we want. We need to win games and show great mentality. In football you need to show over and over and again.
"We were in the final the last time and we want to be there again. This time when we get there, it would be a different story," he added.
The 61-year-old also claimed that the Black Stars' preparations have gone on well despite concerns back home about lack of friendly matches.
"It has been very good. The players have showed good spirit, the quality is good. We will be ready for the first game," he said.
"I am very happy that the spirit has not changed. We started two years ago really well until things that did not concern football began to affect us. We don't want to dwell in the past too because during this training camp the preparation has been good. It's not been perfect but the basics have been great."
The former Chelsea boss was always spotted wearing a blue polo shirt and he claims it brought him luck in the previous tournament.
"The blue shirt served me very well by the way. I remember that I wore the shirt in the last moment and my wife called me and said what is it with this shirt and I said we lost the match but then we won against Algeria and she said okay stay with that."
Ghana have been paired with Egypt, Uganda and Mali in Group D and will play their first game against the Cranes at the Port-Gentil Stadium on January 17.