MLS
Goal predicts the 2016 MLS Cup final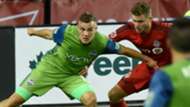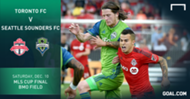 TORONTO FC vs. SEATTLE SOUNDERS
Ives Galarcep: Toronto 3-1 Seattle
Toronto FC and the Seattle Sounders were two of the best teams in MLS down the stretch of the regular season, and both carry that momentum into an MLS Cup final shaping up to be a classic. TFC is at home, and riding a wave of confidence propelled by an attack scoring goals in bunches. Red-hot Jozy Altidore and the ever-dangerous Sebastian Giovinco have helped Toronto rip apart opposing defenses with ease, and while the Sounders won't be easy to break down, you have to like TFC's chances.
Offensively, the Sounders have the weapons to cause problems for a TFC defense that surrendered five goals in the series win over Montreal. Nicolas Lodeiro and Jordan Morris have been particularly tough to stop, and could find some success against Toronto's 3-5-2 formation. The Sounders should be able to find a goal, but Seattle's defense must play mistake-free soccer if the visiting team is going to lift the MLS Cup for a second straight year. Altidore and Giovinco have a habit of forcing mistakes, though, and both should be key figures in a TFC victory.
Jon Arnold: Toronto 0-2 Seattle
How is Toronto FC going to keep Seattle from scoring? That's the question I keep coming back to, and the one I can't seem to answer as I evaluate this match. TFC's attack is stunning and in great form, but the Sounders are in a different gear as well.
There's no one on Toronto's roster who can keep Nicolas Lodeiro from creating several opportunities, and Jordan Morris or Nelson Valdez is sure to finish off at least one. Add in the set-piece threat, and the Sounders have the edge.
Thomas Floyd: Toronto 2-3 Seattle
These teams have largely ignored the notion of conservative postseason tactics, so expect another entertaining affair in the grand finale. Jordan Morris should cause TFC's 3-5-2 all sorts of problems while attacking from the flank, and Nicolas Lodeiro is smart enough to find the holes in that formation.
That lethal Toronto attack will have its moments as well, with Sebastian Giovinco's quickness a tough matchup for Seattle's center back duo. But look for the Sounders' remarkable run to end in MLS Cup glory.
Rudi Schuller: Toronto 3-1 Seattle
In what cold be a wide-open, exciting affair, both sides will look to ride red-hot form all the way to an MLS Cup victory. With many interesting matchups all over the field (Altidore vs. Torres, Alonso vs. Giovinco, Bradley vs. Lodeiro, etc.), this has the makings of a classic.
The Sounders have been the best team in MLS over the past several months, but they haven't faced a team during that run that has scored goals for fun the way TFC has over the course of the playoffs. With that being said, Toronto has given up a few along the way, so the prospect of a clean sheet for either goalkeeper seems incredibly slim.
Ben Valentine: Toronto 3-2 Seattle
This matchup features plenty of firepower on both sides. While Colorado did a good job on Nicolas Lodeiro, it will be a performance Toronto, with Michael Bradley often looking to go forward, will be hard pressed to match. He should be able to find room to operate while the movement of Jordan Morris will be a tough test for TFC's back line.
Although Seattle's defense has improved since Roman Torres' return, it hasn't faced a player quite like Sebastian Giovinco and also must deal with an in-form Jozy Altidore. There should be plenty of chances for both sides, but TFC takes the MLS Cup at home.
Seth Vertelney: Toronto 1-2 Seattle
Toronto FC has displayed an ability to score copious amounts of goals this postseason, and also a tendency to be vulnerable at the back. With plenty of room to exploit between the midfield and defensive lines, Nicolas Lodeiro will relish the prospect of carving apart TFC's defense and finding his teammates on through balls.
On the other end of the pitch, Jozy Altidore will finally meet his match physically in the form of Roman Torres, who has the ability to do just enough to slow down the red-hot striker. Just like last season, the road team from Cascadia will lift the MLS Cup in enemy territory.